Paralympic Games: full Foreign Office coverage
A round up of Foreign Office activity around the London 2012 Paralympic Games from 29 August to 9 September.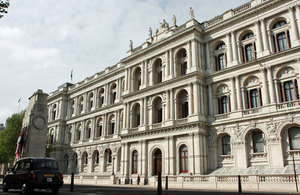 A round up of our news:
Thursday 6 September
Wednesday 5 September
Tuesday 4 September
Monday 3 September
Friday 31 August
Thursday 30 August
Wednesday 29 August
See also:
Our posts around the world have been looking forward to start of the Paralympics:
Consul-General Barbara Hay visited Paralympians at the US Olympic Training Centre in Chula Vista, Calif. to wish them well before they departed for the London Paralympic Games. Among the athletes she met were world-record holders Blake Leeper and Lex Gillette; members of the mixed coxed adaptive rowing team; and US military veteran and Paralympian Chris Clemens.
See also videos from the UK in Canada team, who spoke to Paralympic hopefuls Jaye Milley and Victoria Nolan
"With an extraordinary Olympic Games still fresh in the memory, I'm looking forward to some more fantastic performances from all the Paralympic athletes - keeping a particular eye out for Team GB and Team NL of course!" - British Ambassador to the Netherlands Paul Arkwright in his latest blog post.
Paralympic mascot Mandeville met German Chancellor Angela Merkel and during the open day at Berlin's Ministries.
"The Paralympics is more than a sporting spectacle. It is about creating a powerful legacy for disabled people worldwide by inspiring people to recognise that disabled people should not be judged by what they can't do, but by what they can. It is about harnessing the skills and potential of everyone in society to the benefit of us all." - British Ambassador to Jordan Peter Millett in his latest blog post.
Published 6 September 2012