Papal visit moves to London
Pope Benedict XVI has led a celebration of Catholic Education in Twickenham on the second day of his official visit to the UK. He will address civil society in Westminster Hall this evening.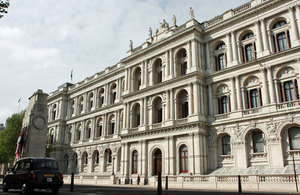 The Papal visit is an opportunity to stress the importance of the shared commitment the Government and the Vatican have to the Millennium Development Goal of ensuring a primary education for all children, and to stress the shared importance of education in creating 'global citizens'.
Today the Pope visited St Mary's University College, Twickenham, where he led 'The Big Assembly' of almost 4,000 school children and students within the grounds of the college. The celebration of Catholic education included a live link-up with a school in Gambia. During the event, the Pope inaugurated the John Paul II Institute of Sport, which has been founded to encourage sporting excellence and provide training for future youth and adult sport leaders.
The Pope will also meet with religious leaders and people of faith at St Mary's before paying a visit to the Archbishop of Canterbury in Lambeth Palace.
In the evening, the Pope will address to civil society in Westminster Hall in the Palace of Westminster. He will then lead a celebration of evening Prayer in Westminster Abbey.
The Pope was officially welcomed to the UK yesterday by her Majesty the Queen at the Palace of Holyroodhouse, Edinburgh. Last night he led mass in Bellahouston Park, Glasgow, to a crowd of thousands. After spending Friday and Saturday in London, the Pope will visit Birmingham for the Beatification of Cardinal Newman. Please visit the Catholic Bishops' Conference website for full details of the itinerary.
Published 17 September 2010