Papal visit: further details announced
Details on Pope Benedict XVI's schedule for 16 to 19 September and travel information for the public celebrations have been announced.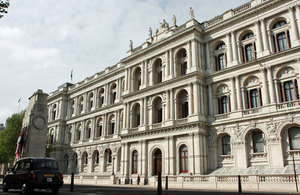 The Pope will start his visit on Thursday 16 September by attending a State welcome ceremony at the Palace of Holyrood House in Edinburgh, where he will have an audience with Her Majesty Queen Elizabeth II. He will then travel to Glasgow to celebrate mass in Bellahouston Park.
On Friday 17 September the Pope will hold a private celebration of Mass in the Chapel of the Apostolic Nunciature in Wimbledon. He will later address civil society in the Palace of Westminster before leading a celebration of evening prayer in Westminster Abbey.
On Saturday 18 September, the Pope will hold a Prayer Vigil on the Eve of the Beatification of Cardinal John Henry Newman in Hyde Park. The Pope will then travel to Birmingham on Sunday 19 September to celebrate mass for the Beatification of the Venerable Cardinal John Henry Newman in Cofton Park in Rednal.
For more information on when and where to see the Pope and travel information for the different event venues, visit the Cabinet Office website. All non-media must be attached to a group from a Catholic parish to attend one of the public celebrations. See the Catholic Bishops' Conference official Papal visit website for information on how to register your interest.
Please note that media accreditation for the Papal visit has now closed.
Published 26 August 2010