Papal visit continues in London
Pope Benedict XVI has met Prime Minister David Cameron and other senior politicians on the third day of his official visit to the UK.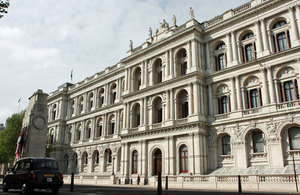 Earlier today Pope Benedict XVI held private meetings with Prime Minister David Cameron, Deputy Prime Minister Nick Clegg and Acting Leader of the Labour Party Harriet Harman.
Last night the Government and the Papal delegation released a Joint Communique following a working dinner agreeing that more needs to be done to address the unnecessary suffering caused by hunger, disease and illiteracy. Earlier in the evening, the Pope delivered an address to civil society in Westminster Hall in the Palace of Westminster.
Today the Pope celebrated Mass at Westminster Cathedral and greeted the people of Wales and 2,500 young people gathered to welcome him. Later today, he will visit St Peter's Residence for Old People in South London. This evening, the Pope will hold a Prayer Vigil on the Eve of the Beatification of Cardinal John Henry Newman in Hyde Park, London. About 80,000 people are expected to attend. Tomorrow on the last day of his visit, he will visit Cofton Park in Rednal, Birmingham, for a celebration of Mass for the Beatification of the Venerable Cardinal Newman.
Published 18 September 2010