Papal visit concludes in Birmingham
Pope Benedict XVI has left the UK after a historic four-day visit to England and Scotland. Prime Minister David Cameron attended the departure ceremony to bid farewell to the Pope.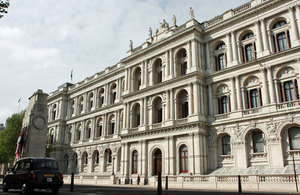 During the first ever official Papal visit to the UK, Pope Benedict XVI visited Edinburgh, Glasgow, London and Birmingham for a wide range of State and pastoral events and meetings. Prime Minister David Cameron delivered a speech and bid farewell to the Pope when he departed from Birmingham International Airport this evening. The Prime Minister spoke of the visit as an "incredibly moving four days for our country" and said he looked forward to "ever closer co-operation between the UK and the Holy See as we redouble our resolve to work for the common good, both here in Britain and with our partners abroad".
The Pope arrived on Thursday 16 September and started his visit by attending a State welcome ceremony at the Palace of Holyroodhouse in Edinburgh, where he had an audience with her Majesty Queen Elizabeth II. He also travelled through Edinburgh in the Popemobile, watched by thousands of wellwishers. On Thursday evening, the Pope celebrated mass in Bellahouston Park, Glasgow.
On Friday 17 September, the Pope held a celebration of Catholic education at St Mary's University College in Twickenham. There he inaugurated the John Paul II Institute of Sport, which has been founded to encourage sporting excellence and provide training for future youth and adult sport leaders. He also addressed civil society in Westminster Hall in the Palace of Westminster, and led a celebration of evening prayer in Westminster Abbey.
At a dinner hosted by Foreign Secretary William Hague on Friday evening, the Government and the Papal delegation released a Joint Communique on the eve of a summit in New York to review progress towards implementing the Millennium Development Goals. The Communique agreed that more needs to be done to address the unnecessary suffering caused by hunger, disease and illiteracy.
On Saturday 18 September, the Pope held private meetings with Prime Minister David Cameron, Deputy Prime Minister Nick Clegg and Acting Leader of the Labour Party Harriet Harman. He also celebrated Mass at Westminster Cathedral, and visited St Peter's Residence for Old People in South London. On Saturday evening, the Pope held a Prayer Vigil on the Eve of the Beatification of Cardinal John Henry Newman in Hyde Park, London, an event attended by around 80,000 people.
Today, on the last day of his official trip to the UK, Pope Benedict XVI celebrated Mass for the Beatification of the Venerable Cardinal John Henry Newman in Cofton Park, Rednal. The trip was the first official Papal visit to the UK, because the Pope was invited by the Queen rather than the church. It was the first visit to Britain by a Pontiff since John Paul 11 in 1982, which was a purely pastoral trip.
Published 19 September 2010