World news story
Panama - Human Rights Programme Fund: Call for Bids 2019
The call for bids for the Panama Human Rights Programme Fund is now open.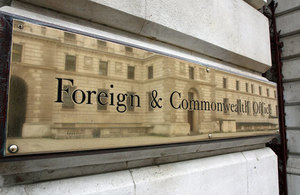 Overview
British Embassy Panama City invites non-profit organisations and civil society to submit project concept bids for 2019-2020 Human Rights and Democracy Programme (HRDP).
The HRDP is the FCO's dedicated fund for supporting human rights and democracy overseas. The programme seeks to make the world safer and fairer by supporting human rights, democracy, good governance, and the rule of law.
Project bids
Typical projects should range in value up to USD 12,000 (with a minimum bid size of USD 5,000) and should aim to work with organisations from the government, civil society and the private sector. Projects must have completed 85% of spend by the 31 December 2019, and completed all activities by the 28 February 2020.
Official Development Assistance
All expenditures must qualify as ODA. Official Development Assistance (ODA) is a term created by the Development Assistance Committee (DAC) of the Organisation for Economic Co-operation and Development (OECD) to measure aid. ODA should be undertaken by the official sector (official agencies, including state and local governments, or their executive agencies) and has promotion of economic development and welfare as the main objective.
We seek project proposals in the following priority areas:
Gender Equality

LGBTI+ Rights

Girl's Education

Rule of Law
How to bid: submitting project proposals
The Project Proposal Form (including an Activity Based Budget) should be submitted in English to Panama.Prosperity@fco.gov.uk by 15 May 2019. Please name both the file and e-mail subject as "HRDP 2019: XXX name of the implementer."
Binding agreements
The FCO will sign a standard Grant Agreement/MoU/Commercial Contract with all successful bidders. The terms are non-negotiable.
Project proposals
Please read all guidance. Ensure that project proposals are designed and submitted in accordance with guidelines. Proposals that do not meet the guidance and the following criteria will be rejected immediately.
Assessment criteria
value for money
evidence of local demand/need
project viability, including capacity of implementing organisation(s)
project design, including clear, achievable objectives/outputs
sustainability
good risk and stakeholder management
Project Proposal Form Guidance (MS Word Document, 40.2KB)
Project Proposal Form (MS Word Document, 48KB)
Activity Based Budgeting (MS Word Document, 69.8KB)
Activity Based Budget (MS Excel Spreadsheet, 30.6KB)
Value For Money & Budgeting Guidance (MS Word Document, 35.6KB)
Timeline 2019
| | |
| --- | --- |
| Dates | Activity |
| 25 April 2019 | British Embassy accepting submissions of Project Proposals |
| 15 May 2019 | Implementers to submit Project Proposals (including Activity Based Budget) |
| 31 May 2019 | Embassy announces bidding results to implementers |
| 7 June 2019 | Binding agreements with financial arrangements are set |
| 18 June 2019 | Project implementation commences |
| 31 December 2019 | Implementers to complete 85% of project spend |
| 28 February 2020 | Implementers to complete all project activities |
Published 25 April 2019