Palliative care expert says "healthcare is at the heart of British society"
In a Foreign Office film launched today, German Dr Claudia Bausewein discusses the UK's leadership in palliative care.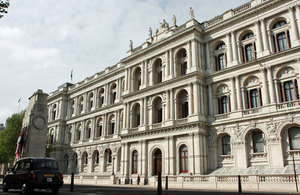 The film is one of the 'See Britain through my eyes' series featuring individuals from home and abroad talking about their experiences of modern Britain in the run up to the London 2012 Olympic and Paralympic Games. Claudia's film is being released to coincide with a palliative care conference for visiting German doctors at St Christopher's Hospice in London. Watch her short film below.
In the film, Claudia explains how the modern hospice movement began in the UK in the 1960s. Dame Cicely Saunders pioneered the patient-centred approach to palliative care, and Claudia believes the UK has led in this field ever since. As a young doctor in Germany, she had no doubt that Britain was the obvious place to move to in order to expand her knowledge.
Claudia believes the UK's strong emphasis on healthcare and caring for the most frail in society including terminally ill, disabled and old people has led to its high standards in palliative care. She is now keen that this expertise and research is shared with other countries around the world.
Palliative care involves relieving patients' pain, giving them more energy and helping them to sleep. Claudia disagrees with those who think that there can be no success working with patients who have terminal illnesses. She finds it hugely satisfying to improve people's quality of life even if ultimately she cannot cure them.
Born in Munich in Germany, Claudia is a senior clinical research fellow and also the first Saunders Scholar in the Department of Palliative Care, Policy and Rehabilitation at Kings College London. She is also on the Board of Directors of the European Association of Palliative Care (EAPC)
Claudia's background is in internal medicine although she has been involved in palliative care in Germany for over 15 years. She has worked in the UK since 2005 and in 2009 she completed a PhD at King's College London on breathlessness, funded by the Cicely Saunders Foundation.
Claudia was previously a consultant in palliative medicine at the Interdisciplinary Centre for Palliative Medicine at the University of Munich. She has held the position of Vice-President of the German Association for Palliative Medicine, co-editing the German Journal of Palliative Medicine, and has published a handbook on palliative medicine as well as many papers on palliative care.
Published 14 September 2011