Pakistan will need aid for years to come – Deputy Prime Minister
Deputy Prime Minister Nick Clegg has visited a relief camp in Southern Pakistan where he saw for himself the scale of the flood devastation.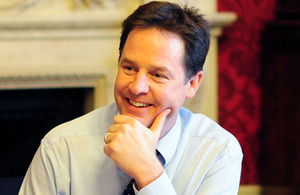 The Deputy PM was touring the camp near the town of Sukkur in Sindh province, one of the worst affected regions of southern Pakistan. The camp houses over 3,000 refugees.
Mr Clegg was shown a clinic and chatted with children at a makeshift school, before moving on to the UN World Food Programme distribution base.
At nearby Sukkur airport he received a briefing from aid agencies and met President Asif Ali Zardari, who was also touring the disaster scene.
During his visit the Deputy PM warned that Pakistan would need aid for years to come and although he praised the British public and Government for their donations he said the international community's response had been too slow.
He said:
We have to make a huge effort to provide important emergency aid, but really stick with this for the long term. It's going to take years and years for normality to come back to Pakistan.
Mr Clegg also underlined the "real danger of diseases taking hold" in areas where the flood waters have not drained away.
His visit to Pakistan follows the publication last week of detailed relief plans in aid of the south Asian country, including a doubling of emergency aid to £33 million, and the provision of 3,500 tents and 9,032 shelter kits capable of housing over 62,000 people.
Published 1 September 2010