World news story
Pakistan: Haris Ali Virk wins the British High Commission's GREAT Debate 2019 competition
The British High Commission's fourth annual GREAT Debate competition final was held in Islamabad on 16 March 2019.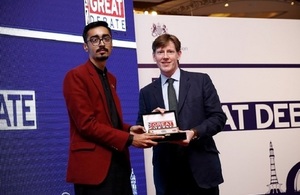 The event was attended by members of the media and civil society, Chevening alumni, the Acting High Commissioner and senior officials from the British High Commission and British Council. The audience witnessed a high intensity competition between ten of the top debaters from across universities in Pakistan, who spoke for and against topics on trade, prosperity, innovation and technology.
The judging panel consisted of British Council Country Director Rosemary Hilhorst, Chevening Alumni, Advocate High Court and Head of Litigation at ABS & Co. Amna Abbas, Chevening Alumni and Parliamentary Consultant Minail Khan and Mentor and Consultant Haider Mairaj. The Chief Guest at the event was the Acting British High Commissioner Richard Crowder.
After a competitive round of fixtures, Haris Ali Virk from Government College University Lahore and Lajpal Haider Malik from FAST University Islamabad were judged to be the winner and runner-up of the GREAT Debate 2019 competition.
The Acting British High Commissioner Richard Crowder said:
This year the UK is celebrating the strong trade links between our two countries. The UK is Pakistan's largest export market in Europe and second largest globally and we would like to see more UK-based companies doing business in, and with, Pakistan.

I am delighted that with our annual GREAT Debate competition we are able to give the youth a platform to debate on themes that are important to Pakistan's future. This is the fourth edition of the GREAT Debate and I am pleased that we have been able to include debaters from each of the provincial capitals of Pakistan.

I congratulate all the finalists. I am sure you will all play a vital part in the future success of Pakistan.
The GREAT Debate competition held in 2018-19 was the fourth annual edition of the competition that gives students from across Pakistan a platform to participate in debates, interact with other students from different universities and hone their skills in research, analytical thinking and public speaking.
The winner and runner-up of the overall competition will receive a scholarship reward to contribute towards their tuition fees.
More information
The GREAT Debate is a debating competition for university students. There were five semi-finals – in five different cities (Islamabad, Lahore, Karachi, Peshawar and Quetta) involving students from over 50 leading universities across Pakistan – and the winner and runner-up of each semi-final competed in the final in Islamabad.
For updates on the British High Commission and the Chevening Programme, please follow our social media channels:
$A Contact British High Commission Islamabad Tel. 0300092 51 2012295 $A
Published 22 March 2019