Press release
Pair to retire after almost a century of service
With more than 90 years of service between them, this veteran pair are finally bidding farewell to the Environment Agency.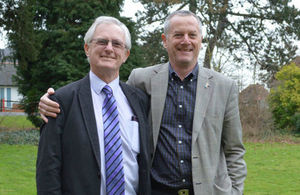 Both joining at 18 years old, Steve Bewers and Mike Webley have worked for the Environment Agency (and its predecessor organisations) in the Essex, Norfolk and Suffolk area, for all their careers, with 51 and 41 years of service, respectively.
Steve, who will become part time from March 31 and retire at the end of the year after more than half a century of service, began working for the organisation, then known as the Essex Rivers Authority, in 1965, carrying out analysis of water and sewage.
Since then he has undertaken 12 roles, including team management, within the various functions across Essex, Norfolk and Suffolk, including sites in Witham, Romford and Chelmsford, before arriving at his current base in Kelvedon.
For the last 8 years Steve has been the EA's project manager of London Gateway Port, one of the country's largest container ports. He will continue in this role until the end of the year.
Mike joined in 1974 as a technical assistant based in Stanway, Colchester with the Essex Rivers Division of Anglian Water Authority. It was then that he first met Steve and they worked together in water quality for a number of years.
Mike's role was initially based out on site, conducting river surveys, and investigating pollution incidents.
Since the EA was established in 1996, Mike has been running various Environment Management teams culminating with the Essex Land and Water team, which oversees agricultural, pollution and water quality issues in the area.
They both agree that the major change over the years has been technology, in terms of communication and specialist equipment, and the approach to protecting the environment.
Mike said: "I can remember being based in the Chelmsford office and we got a computer for the first time. There was just one in the whole office and only the managers could use it. Now, you can't operate without a computer.
"Also we had no mobile phones so when you were out all day on site, we had to use radios installed in the cars."
They claimed it is the people they work with that they will miss the most, as well as the variety of the job.
Steve added: "We have worked with a good bunch of people. Some of those that are coming to our retirement do worked with us 40 years ago but we've stayed in touch. We have enjoyed our time here and will miss everyone."
For Mike, who turns 60 next month, retirement means more golf, a few holidays and a lot of decorating.
Steve also plans to do some travelling at some point, once he's redecorated his house, and hopes to learn to play the piano.
EA's Area Manager for Essex, Norfolk and Suffolk, Dr Charles Beardall said: "Mike and Steve have achieved a fantastic long service with our organisation.
"I am very grateful for their hard work, dedication and professionalism over the years, and feel proud that they have spent their entire careers with us.
"We are sorry to lose their wealth of experience and we will miss them greatly as colleagues. I wish them the very best for their future retirement."
Published 3 March 2016