Press release
Painting the town yellow in Teignmouth
The Environment Agency are working together with Teignbridge District Council to explain to local businesses what happens if they pour fat, oils or other dirty liquids down their yard drains or road gullies.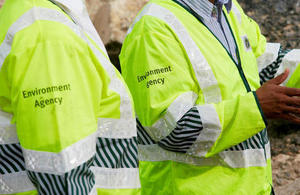 On Tuesday, they will launch an educational campaign designed by the Environment Agency called 'Yellow Fish'.
The campaign involves painting yellow fish next to the drains that connect to the surface water pipes that lead to the estuary or the sea. By marking the drains, and explaining where surface water ends up, it will show business owners and the public how pollution travels direct to the sea.
The Agency hopes that this will help to keep the local beach cleaner.
The team will locate the road drains around the town and paint yellow fish on the drain covers or kerb stones. They will also ask businesses in the community to pledge not to pour anything down the road drain and it is hoped they will display a yellow fish poster to show that they support the campaign.
Nick Smart for the Environment Agency said:
It has been great having the opportunity to work with local people, who also use and enjoy the local bathing beaches. By delivering this campaign we hope to show everyone the link between preventing pollution in the town and protecting our bathing waters.
Cllr Kevin Lake, Executive Portfolio Holder for Environmental Services at Teignbridge District Council said:
The campaign will hopefully encourage people to stop pouring fat and other pollutants into the drain system and this will help to improve bathing water quality in the town. It will also show local business owners and people living in the town that some of the drains on the street lead direct to Teignmouth's bathing waters.
Other things people can do to help their bathing water are:
• Pick up your dog mess from the beach, and also the roads and pavements where it can get into the drains • Put food waste securely in the bin to discourage scavenging birds from the beach and town area. • Dispose of all wastes sensibly. • Place waste sanitary products in the bin not down the loo where they can cause blockages and sewage flooding. • Check that your drains are connected properly.
Ends
Note to editors
Further information: https://www.gov.uk/government/publications/avoiding-pollution-yellow-fish-scheme
http://www.connectright.org.uk/
Check Bathing water quality: https://www.gov.uk/quality-of-local-bathing-water
Follow us on Twitter: @EnvAgencySW #swbathingwater
Published 23 May 2014