Paice calls for more honest labelling
The origin labelling of meat, meat products and dairy products tend to be the most confusing for consumers to understand.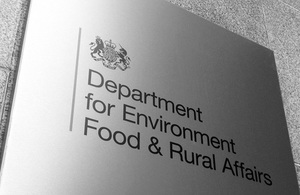 Food businesses, including supermarkets and processors, should do more voluntarily to improve country of origin labelling on food products such as meat and dairy, Food Minister Jim Paice said today.
On a visit to Melton Mowbray, home of one of Britain's most iconic protected foods, the Melton Mowbray Pork Pie, Mr Paice said he wanted to see improved country of origin labelling, particularly for meat and dairy products where confusion can most easily occur.
Jim Paice said:
"It is a priority for the Government to ensure that food labelling is as clear as it could be.  I'm therefore calling on the industry to work with us to ensure that people can be confident about the origin of the products they buy.
"I've written to food industry leaders to emphasise that we want clarity and transparency for the consumers, who want to make a choice based on the origin of their food - particularly if they believe they're buying British.
"Some good work is already happening - for example the voluntary agreement agreed recently by the pig meat industry. Individual products such as Sainsbury's Steak and Cornish Ale Pasty and Asda Chicken Puff Pastry Pie have also been singled out as products which show clearly that the meat is British, and the product is made in Britain.
"Where our food comes from is increasingly important to us.  I'm here in Melton Mowbray today to see how their pork pie and Stilton cheese industries have used their protected status to increase sales and consumer interest in their product, and the area it comes from."
The origin labelling of meat, meat products such as pies and ready-meals and dairy products tend to be the most confusing for consumers to understand.  Improving labelling for consumers to make it clear where their food comes from is a key objective in developing a voluntary agreement with the industry.
A good practice code already exists within the pig meat industry with many major companies committed to minimum standards on origin labelling, product definitions (eg free range) and breed names on labels.
The EU is considering new rules on origin labelling.  While Defra would prefer industry to respond voluntarily to consumer demands for better origin labelling, Defra will also be pressing for the option of compulsion to kept open.
Notes
Further details about Protected Food Names can be found at Defra's protected food names web pages:
archive.defra.gov.uk/foodfarm/food/industry/regional/foodname/index.htm.
Defra work closely with ADAS, (the delivery body responsible for dealing with the administration of the scheme) and a wide range of other organisation to raise awareness of the Protected Food Name (PFN) scheme and encourage more applications.
The EU Protected Food Name scheme came into force in 1993.  It provides for a system for the protection of food names on a geographical or traditional recipe basis.   The designations are Protected Designation of Origin (PDO), Protected Geographical Indication (PGI) and Traditional Speciality Guaranteed (TSG). The scheme highlights regional and traditional foods whose authenticity and origin can be guaranteed.  Under this system a named food or drink registered at a European level will be given legal protection against imitation throughout the EU.
Further information about the EU scheme, together with application forms and guidance notes can be obtained from ADAS on 020 7238 6678, or irene.bocchetta@adas.co.uk.
Details of the scheme, including a full list of UK (and other Member States') products covered, can be found on the EU website: http://ec.europa.eu/agriculture/quality/.
Forty-two British products now enjoy protection under the scheme including Arbroath Smokies, Cornish Clotted Cream, Melton Mowbray Pork Pies and Welsh Lamb.  There are almost 40 other applications currently in the pipeline to protect various UK products.
Information on packaging good practise examples taken from www.honestlabelling.com
Best practice guidance on origin labelling can be found at www.food.gov.uk/foodindustry/guidancenotes/labelregsguidance/originlabelling
List of organisations which will receive  letters from the Minister of State about Government proposals for encouraging take-up of Country of Origin labelling
AIMS (Association of Independent Meat Suppliers
BMPA (British Meat Processors Association)
BMTA (British Meat Traders Association)
BPEX (Agriculture & Horticulture Development Board - pigs)
BHA (British Hospitality Association)
BPC (British Poultry Council)
BRC (British Retail Consortium)
BSA (Business Services Association)
Dairy Co (Agriculture & Horticulture Development Board - dairy)
Dairy UK
EBLEX (Agriculture & Horticulture Development Board - beef & sheep)
FDF (Food and Drink Federation)
IMTA (International Meat Traders Association)
NFU (National Farmers Union)
PTF (Provision Trade Federation)
Which?
Published 3 August 2010