Oxfordshire MOD farmer commended by Prince Charles
Terry Moore - a tenant farmer on Oxfordshire land owned by the Ministry of Defence - has received a letter from Prince Charles commending him for his outstanding conservation work and an environmental achievement award he received from the MOD.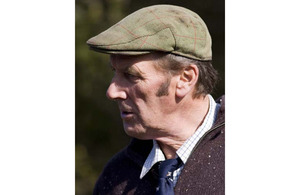 Mr Moore has a small farm and tenancy on a part of Otmoor used by Defence Infrastructure Organisation (DIO) as a live firing range. He has grazed cows for decades on this area of wetland and grassland north east of Oxford and cares passionately about Otmoor.
Mr Moore is the main driving force behind conservation works on Otmoor. He scooped a top MOD conservation award for his personal ambition, hard work and achievements - particularly for his efforts which have benefited the rare fen violet.
When asked how he felt about receiving the letter from Prince Charles, Mr Moore said:
I was delighted and very proud to have received this very personal letter from Prince Charles. I regard it as quite an achievement.
What I found particularly touching was that Prince Charles not only commended me for my efforts, but seemed genuinely interested and concerned about conserving and protecting this fragile environment for future generations.
The news that Mr Moore had received a letter from the Prince of Wales was welcomed by Commander Defence Training Estate Home Counties, Lieutenant Colonel Richard Bishop, who said:
DIO's top priority is to support our Armed Forces in preparing for operations, but we must balance this with environmental considerations.
This means managing and conserving the land used for our training areas, such as Otmoor, to ensure they continue to benefit successive generations of troops and we remain compliant with our statutory obligations.
"Mr Moore thoroughly deserves this letter. He has done an enormous amount of work and put in a lot of personal time and effort to help conserve this beautiful part of Otmoor.
"We are very proud of the rich biodiversity of Otmoor and delighted to work with Mr Moore, and our other tenant farmers, to help conserve and maintain it."
Mr Moore was chosen as Individual Achievement Award winner in the Sanctuary Awards 2010, which are organised by DIO, on behalf of the MOD.
Published 13 July 2011