Press release
Oxfordshire man guilty of running illegal waste operation
An Oxfordshire man has been given a 4 month custodial sentence suspended for 1 year and ordered to pay over £7,600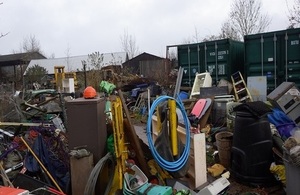 An Oxfordshire man has been given a 4 month custodial sentence suspended for 1 year and ordered to pay over £7,600 after pleading guilty to running an illegal skip operation at his farm in Ipsden Heath.
Geoffrey Parker of Hundridge Farm, Cox's Lane, Ipsden Heath, Oxfordshire OX10 6QP pleaded guilty to two environmental offences when he appeared at Reading Magistrates Court on Friday 4 November 2016. At the sentencing hearing at Reading Magistrates Court today (9 December 2016) the defendant was ordered to pay £7551.31 prosecution costs and a victim surcharge of £80. The Magistrates also made a remediation order (under Regulation 44 of the Environmental Permitting Regulations) which requires the removal of all waste from the farm and Cox's Lane by the end of January 2017.
Hundridge Farm is no longer a working farm but became a storage and sorting location for waste imported by the defendant who also lives on site in the farmhouse. The farm which is about 32 acres in size is located next to ancient woodland within the Chiltern Area of Outstanding Natural Beauty.
The court heard how Mr Parker, a sole trader, trades as GD Parker Contractors Instant Skip Hire and has run a small skip hire business with a single skip lorry from the farm for many years. His customers are mainly householders or builders.
Mr Parker has been carrying out these waste operations including the deposit, keeping and storing of waste without being authorised by an environmental permit.
This is not the first time the defendant has been in court. Back in October 2009, an injunction order was issued against Mr Parker where Oxford County Court ordered the defendant to "cease to forthwith, import, deposit, keep, treat or dispose of controlled waste, including waste in skips, or carry on any other waste management activities." However, Mr Parker failed to follow the order and contempt of court proceedings were taken with the defendant eventually removing the majority of the waste.
During routine inspections in 2014, Environment Agency officers discovered illegal waste in over 40 skips which were scattered along the approaching lane to the farm (Cox's Lane). Cox's Lane is a bridle path used by ramblers, joggers and horse riders. In the yard area at the entrance to the farm, environment officers saw a large amount of general household clearance type waste on a concrete pad, with more waste stacked up behind. Hazardous materials were seen on site including car batteries, leaking paint pots and containers with chemicals in skips. The officers explained the terms of his injunction to Mr Parker and that his activities had to stop and why.
Environment Agency officer, Julia Leigh said:
Environment Agency Officers provided repeated advice and guidance to help but Mr Parker who frequently flouted the law, undermined the legitimate waste management industry, and put people and the environment at risk".

Anyone operating a regulated facility to recover or dispose of waste can only do so with an environmental permit granted under the Environmental Permitting Regulations. An environmental permit protects the environment and local communities from potentially harmful substances and such things as smell or litter nuisance, and requires appropriate management systems and infrastructure to be in place before any waste activity takes place".
Mr. Parker's early guilty plea was recognised and taken into account during sentencing.
Published 9 December 2016