World news story
Oxford Business Group signs MOU with British Embassy Lima and British-Peruvian Chamber of Commerce
Peru's strong economic growth and government reforms are key focus of latest OBG report.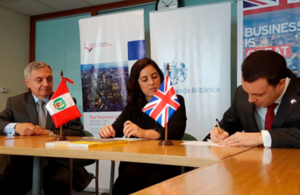 Over the last decade Peru has consistently been the fastest-growing economy in Latin America and has been remarkably resilient to global headwinds. Stakeholders and investors are now looking to efforts by the new government to address problems, implement additional reforms and spur further economic growth, according to the Oxford Business Group (OBG) report 2017.
'The Report: Peru 2017' highlights opportunities in sectors of Peru's economy which are set to drive new growth, including infrastructure, transport, mining, and agriculture & fisheries.
The British Embassy Lima and the British-Peruvian Chamber of Commerce signed a Memorandum of Understanding (MOU) with OBG, in support of its forthcoming 2018 report. As part of the MoU, OBG will work closely with the Embassy's Department for International Trade (DIT) team to research and analyse Peru's latest business trends.
OBG's Country Director, Fabiana Rodriguez, said she was thrilled to be teaming up with both organisations at a time when trade ties between Peru and Britain are growing significantly.
Colin Gray, Chargé d'affaires at the British Embassy in Lima, was confident that the MoU would raise awareness of the significant business opportunities for UK firms in Peru, while providing a platform for the publishing group to promote itself to the international business community.
'I am delighted to sign this agreement and look forward to working more closely with Oxford Business Group. This initiative brings together the expert analysis of OBG and their publications, with the first-class work undertaken by DIT and the Chamber of Commerce."
The Report: Peru 2017 is a vital guide to the many facets of the country, including its macroeconomics, mining, infrastructure, transport, and other areas. The report is available here.
Oxford Business Group is a global business intelligence leader. With some of the industry's most experienced analysts conducting on-the-ground research throughout the year, OBG provides its global readership with the business intelligence they need to stay ahead. OBG has access to the most accurate statistics and independent analysis available in 40 countries, assisting clients in making fundamental long-term investment decisions at a time where access to knowledge is power.
Published 12 December 2017