Owen Paterson in China: diary of a trade mission
Find out how Owen Paterson's trade mission in China went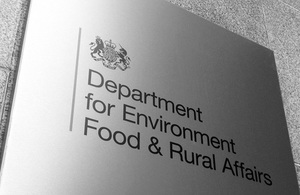 Environment Secretary Owen Paterson sends a daily update from his trade mission to China, where he will be visiting Shanghai, Guangzhou and Hong Kong.
Day four
The final leg of our trade mission took us to Hong Kong. British brands are more well known here, as you'd expect.
The island is a major trading hub as well as a gateway into other parts of Asia and there are great business opportunities for UK firms here.
This morning I met with Christine Loh, the Hong Kong Under-Secretary for the Environment and discussed potential business opportunities for British companies.
Then this afternoon I attended a reception promoting British beef to the Asian market. The UK produces just under a million tonnes of beef each year, and exports around 150,000 tonnes. But we've been exporting beef to Hong Kong for the last few years and trade is increasing, which will be an important springboard for breaking into the Chinese market.
It was a really good event, hosted by English Beef and Lamb Executive and attended by high-end retailers, restaurants, well-known chefs and importers. One importer told me she'd not eaten beef for ten years but having tasted it she was definitely going to start selling it here. Most people I spoke to said they weren't used to eating beef regularly but that what they'd eaten today was far better than anything any other country had to offer.
I also spoke to the regional manager of the chain of supermarkets I visited in Guangzhou yesterday which didn't stock much produce from the UK. When I asked him why he told me it was because his suppliers didn't import any. His advice to food and drink manufacturers was to build up good relations with importers. That way the wholesalers and suppliers in China can then do all the marketing and promotion of British brands to the Chinese retailers.
This has been a hectic but hugely important week. We've learned so much about the importance of long-term relationships, making the right contacts, and longer term issues which we can help resolve. I'm certain that Chinese consumers want what Britain has to offer and I plan to come back here in around six months with another trade delegation.
This is a global race, and we're not going to compete by sitting at home. So my message is clear - let's get out there and show the world how great Britain is.
Day three
Today we headed 750 miles south to Guangzhou, the capital of Guangdong province. Guangzhou is smaller than Shanghai, with a population of about 10 million people, but judging from the shops I've seen and the people I've met, they're just as eager for Western goods and food as the rest of China.
We began with a tour of a couple of local supermarkets which stocked a lot of European foods. In one, British food was almost totally absent apart from some PG tips and a few tins of soup. In the other, there was a lot more British food and drink on offer and the manager told me the biggest sellers are whisky, biscuits, and sweets. I was also struck by feedback from a couple of local journalists who said that the strongest British brand was the Union Jack and that was the best banner under which to market our food and drink.
We had lunch with Costa Coffee, who told us about their experience of growing a strong brand here. They're opening two to three stores a week and are aiming for 2,500 by 2018.
This afternoon we had some really useful meetings with Chinese officials. Firstly we discussed the problem of counterfeiting, which can cost UK firms millions in lost revenue. The authorities here have worked very closely with some of our biggest business interests to clamp down on this. We're incredibly grateful to the Chinese for their help and I was able to pass on the thanks of the Scotch Whisky Association in particular.
We then moved on to talk about food safety regulations with the local Centre for Disease Control. The Chinese government places a very high priority food safety after a number of food scares. The UK is in a great position to help because our safety and traceability are world renowned. But British firms out here have told me again and again how confusing it can be to find out which regulation they need to comply with. So I wanted to use my time here to build links with the right people so our companies can get their goods into China more easily.
We finished the day at dinner with some of the bigger and more established British firms here, such as Allied British Food. They emphasised the importance of "Guanxi" - developing strong relationships. This is one of the main reasons I've led the largest British food industry delegation ever to come to China. We have to show we're serious and that means coming out here regularly, making the right contacts, and learning from the experiences of exporters already supplying the Chinese market.
Day two
Today I opened the largest food trade fair in China, the Food and Hotel China exhibition. We had the largest UK delegation which has ever attended competing with 70 other nations for a share of the rapidly expanding market for quality foods. I toured all of our stands speaking to UK firms who are trying to establish themselves and their brands out here. There was everything you could think of from companies specialising in meat and fish to finger food for conferences and events. We also saw companies exporting beer, cider, plenty of cheese, yoghurt, teas, chocolate and sweets.
One company specialised in food gifts, teaming up with well-known brands to turn out presents such as mugs, clocks, and t-shirts along with your favourite snack. They were pondering whether China was ready for the concept of Marmite.
Secretary of State Owen Paterson cooking British food at the Food and Hotel Conference
Next we headed to Tesco in the centre of Shanghai. Currently they stock predominantly Chinese goods, with only a small section for imported products. Part of their approach is based on the attitudes of Chinese consumers, who are historically suspicious of pre-packaged meat and vegetables. Hence they've re-created a typical wet market in their store, where shoppers can scoop live fish out of tanks or choose from a container full of live frogs. I was looking out for chicken's feet which are a delicacy over here; the store manager said he has to bring them from Brazil becase he can't get enough of them. What is a wasted by- product of the poultry industry in the UK can be sold here adding value. I immediately told him about the poultry producer from Northern Ireland who produces 9 million chicken's feet a week and has to pay to dispose of them. We were able to put them in touch with each other. A whole number of other unexpected opportunities for UK business have emerged over the past two days and it does show the value of getting on an aeroplane and supporting entrepreneurs in export markets.
Then it was off to Marks and Spencer's flagship store. Considered a luxury outlet in Shanghai they currently sell 900 lines but could easily sell up to 4000 if only they could get their imported goods into the country more quickly. This is a message which has been repeated to me a lot - with reliable trade and freight routes and more certainty over imports and customs regulations then British firms could be out here in even greater numbers. It's something we'll be putting a real priority on resolviong over the coming months.
This evening I had a very positive meeting with Chinese firms which are considering investing in the UK. They have interests in areas including infrastructure, manufacturing and transport. With Britain and China having agreed a target of 100 billion pounds annual trade between the two countries by 2015 it was an incredibly useful meeting. We have planned to help them identify suitable investment opportunities and to introduce them when they visit the UK in March.
We finished the day at a Scottish reception showcasing two of Britain's biggest exports - whisky and smoked salmon - which are already well established and highly sought after here in China.Tomorrow we move on to Guangzhou but Shanghai has made a real impression on me. It's a city of around 25 million people which is surging forward at breakneck speed. The potential for British businesses here is enormous. We'll be working hard to help resolve some of the issues the firms I've met have mentioned to me so they can grab every opportunity with both hands.
Day one
We arrived in Shanghai early in the morning and got straight down to business. After a briefing with the consulate I chaired a meeting with UK dairy companies.
I was keen to hear from British businesses about the market for dairy products in China and what opportunities they have identified so far. I also wanted find out what the UK government could do to help UK firms establish themselves out here.
Everyone said how big the potential market was - China imported £36bn worth of food in 2010/11 - but dairy is still relatively new to the Chinese diet. One cheese exporter from Gloucestershire told me that until quite recently there wasn't even a word for 'cheese' in Mandarin!
After some well-publicised food safety issues the Chinese authorities have understandably introduced rigorous new standards. The dairy companies told me that China sees British goods as high quality and safe, and that imported milk products such as flavoured UHT can command up to £4 per litre in some Chinese stores.
However, they would like more clarity on import and safety regulations, as well as a clearer idea of how "organic" is defined here. This is something that Defra and our Chinese counterparts can discuss, so we should be able to help here.
Then it was off to a reception hosted by Diageo, who own some of the biggest drinks brands in the world like Johnnie Walker Whisky, for companies who are out here for the Food and Hotel China trade fair which opens tomorrow. Companies I spoke to said the same thing as the dairy firms I met earlier - help with the paperwork was where the Government could be most effective.
We finished the day with a dinner with Chinese businesses looking to invest in the UK. Earlier on we had the news that it will invest £3m in carbon fibres development at Southampton Science Park, and over dinner we discussed other potential investment targets.
It's been a busy but successful first day here, and I look forward to promoting more of what Britain has to offer the rest of the world at the Food and Hotel China Conference tomorrow.
Published 14 November 2012