Press release
Overseas Territories meet in London for annual Joint Ministerial Council
Lord Ahmad of Wimbledon hosted political leaders from UK Overseas Territories on 4-5 December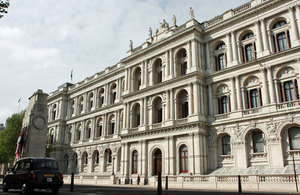 Political leaders from all UK Overseas Territories met with UK ministers this week for the annual Joint Ministerial Council in London from 4-5 December.
The discussions, hosted by Foreign Office Minister of State for the Overseas Territories Lord (Tariq) Ahmad of Wimbledon, covered a range of topics, including Brexit, trade and investment, financial services, safeguarding, disaster management and constitutional issues. HRH the Duke of York also addressed the attendees at the JMC reception.
Minister of State for the Overseas Territories Lord Ahmad of Wimbledon said:
It was a pleasure to welcome Premiers and representatives from all of the UK's Overseas Territories to London. The UK Government is negotiating a Brexit agreement for the whole of the UK family, including the Overseas Territories, and we are committed to finding the best deal for all of us. We also discussed a range of other issues of high importance to all of the Overseas Territories, including making sure that we are collectively prepared for the next hurricane season.

I will be taking the conversations I have had with colleagues from the Overseas Territories and making sure they are fully considered and reflected on as we continue our plans and discussions on Brexit over the coming weeks and months.
The ministers and representatives from the Overseas Territories held a series of productive discussions on Brexit. These talks reaffirmed the UK government's commitment to taking the Territories' priorities into account as the UK prepares to leave the EU, including in relation to funding, trade, the environment and education.
This follows assurances given by the UK Government that, in the unlikely scenario that we leave the EU without a deal, existing projects under certain EU funding streams will be guaranteed by Her Majesty's Treasury for the lifetime of those projects.
Also present at the meeting were:
The Rt Hon Lord Bates, Department for International Development
Thérèse Coffey MP, Department for Environment, Food and Rural Affairs
George Hollingbery MP, Department for International Trade
John Penrose MP, Prime Minister's Anti-Corruption Champion
Chloe Smith MP, Cabinet Office
The Rt Hon Mel Stride MP, Her Majesty's Treasury
Robin Walker MP, Department for Exiting the EU
The leaders of the Overseas Territories also attended Her Majesty The Queen's Reception for the Diplomatic Corps at Buckingham Palace.
Further information
Published 7 December 2018