Overseas Territories flags flown for the first time in Parliament Square
Today, for the first time, the 16 flags of the Overseas Territories are being flown in Parliament Square, alongside the flags of the Crown Dependencies, to mark a state occasion.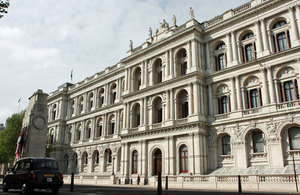 The flags will fly throughout the visit of the President of the Republic of Indonesia, Dr Susilo Bambang Yudhoyono, who is in London until 2 November.
Welcoming the occasion, Minister for the Overseas Territories, Mark Simmonds MP said:
"I am really pleased to see the flags of the Overseas Territories being flown on a state occasion in London. This brings representation of the Overseas Territories in line with the Commonwealth nations, which have long had their flags flown on such occasions. Flying these flags is a sign to the people in the Territories, and those in the UK, of our renewed commitment to the Territories, which was outlined in our recent White Paper. I hope that this will help raise the profile of the Overseas Territories in the UK and around the world."
The flags of the Overseas Territories will now be flown on state occasions in London, including Trooping the Colour and other ceremonial occasions.
Published 31 October 2012