News story
Overseas opportunity for supply chain businesses
Opportunities for supply chain business to apply for up to £1 million of support.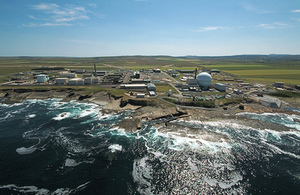 Manufacturing businesses in the decommissioning supply chain are being invited to apply for up to £1 million of support that will help them compete for work in the global nuclear market.
The Sheffield-based Nuclear Advanced Manufacturing Research Centre (NAMRC) has issued the second call as part of the Nuclear Sharing in Growth programme (CNSIG).
The programme is part-funded by the UK government through the Regional Growth Fund, and supported by Rolls-Royce and other industry leaders including the NDA and aims to develop the UK manufacturing supply chain capability and capacity and thereby help companies win work in nuclear programmes at home and overseas – including new build, operations and decommissioning.
Ron Gorham, NDA Head of Supply Chain Optimisation and SME Champion, said: "This is a fantastic opportunity to take advantage of world-class expertise and the know-how of industry leaders, and will help decommissioning businesses to succeed in the international market as well as here in the UK."
As part of CNSIG, the Nuclear AMRC is offering manufacturers a four-year programme of intensive business development and training worth £1 million. The support is aimed at UK-based manufacturers of equipment suitable for the nuclear industry.
Five supply chain companies successfully applied in the first phase of the programme. They will receive training and development programmes tailored to their individual business needs; including shop floor manufacturing improvement, process improvement, leadership development and specific nuclear sector knowledge. Participating companies will need to commit resources of a matching value.
Applicants must meet a range of business criteria in order to be considered. For full details about the programme, including the application form, visit the Nuclear AMRC website.
Submissions must be made by 20 October 2013.
Published 4 October 2013