Overseas Business Risk service launched
A new service has been launched to help UK companies learn about the security and business risks in 90 markets when working abroad.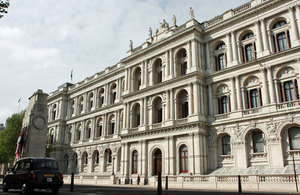 The new service, called Overseas Business Risk, replaces OSIB - Overseas Security Information for Business - and is particularly aimed at giving UK SMEs the information they might otherwise miss out on to help them do business abroad safely and successfully.
Overseas Business Risk is run jointly by UK Trade & Investment (UKTI) and the Foreign & Commonwealth Office and is accessible through the UKTI website.
Thematic market profiles are available for 90 markets all over the world and will cover aspects like the risk of cyber crime, corruption, bribery and theft of intellectual property. It will also provide, in one place, links to authoritative information from across government.
The Foreign Secretary, William Hague, said:
"The success of British firms in markets overseas is essential to our nation's economic recovery and we want to encourage more businesses to export. Many opportunities exist in markets overseas, but we know that risks can accompany opportunity. Companies need support to address such risks, including those relating to corruption, security and rapidly growing threats such as cyber crime.
"Our new Overseas Business Risk service aims to help business manage these risks by providing information on over 90 markets. The service is an important aspect of the FCO Charter for Business - sharing the expertise of our global network to help business indentify and pursue new opportunities while managing the potential pitfalls."
"I encourage British firms operating overseas to make full use of this service."
Minister for Trade & Investment, Lord Green, said: "The potential rewards for working overseas are huge. But in many markets it is important that companies go with their eyes wide open.
"My message to companies is, do not be put off by the challenges of working abroad. This service will provide the information to help ensure British companies can identify and pursue new opportunities whilst managing the potential pitfalls."
The information provided on the site comes from UK diplomatic missions all over the world and also other parts of government such as SOCA (the Serious Organised Crime Agency) and the Centre for the Protection of National Infrastructure.
Overseas Business Risk is led by a Joint Advisory Group drawn from the public and private sector.
The Advisory Group is chaired by Michael Shipster, CMG, OBE, a former diplomat, and now Director International of Rolls-Royce. He took up his unpaid appointment in February.
Susan Haird, acting chief executive of UK Trade & Investment, said: "Overseas Business Risk is a very useful service to business. It provides the information that can help companies overcome some of the challenges they face when doing business overseas.
"Businesses have told us they would benefit from being able to see more of the political and economic information gathered from diplomatic missions, and this is an example of our being able to respond to that."
Published 13 July 2011