Press release
Overnight lane closures on the A45/A46 Tollbar End scheme near Coventry
As part of the Highways Agency's £106million investment to improve the A45/A46 Tollbar End roundabout, A45 Stonebridge Highway and Stivichall Junction, overnight work is to be carried out to install a gas main from Tuesday 17 June.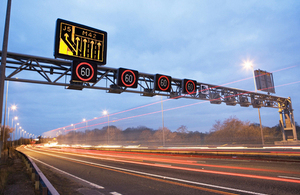 Lane closures will be in place between 8pm and 6am at the Tollbar Island and the A45 London Road to allow the installation of a new gas main pipe by National Grid.
The excavation work across sections of Tollbar roundabout will take around five weeks to complete.
Project manager for the Highways Agency, Paul Nagra, said:
We continue to be grateful to road users for their ongoing patience during these important works.
This essential work can only be done overnight as we need to put lane closures near Tollbar roundabout. We avoid doing this type of work during the day, when traffic is a lot busier, as it would cause far too much disruption to road users.
Although the roundabout will remain open, we still advise motorists to allow extra time for their journeys.
When completed, the A45/A46 Tollbar End scheme will improve capacity, journey times and safety.
Around 45 percent of traffic will be taken from the Tollbar roundabout onto the new underpass. Access to local businesses and Coventry Airport will also be improved, as will pedestrian access at the roundabout.
To find out more about the A45/A46 Tollbar End Junction improvements visit the scheme's website: www.highways.gov.uk.a45a46tollbar or call the Highways Agency Information Line on 0300 123 5000.
General enquiries
Members of the public should contact the Highways Agency Information Line on 0300 123 5000
Media enquiries
Journalists should contact the Highways Agency press office on 0844 693 1448 and use the menu to speak to the most appropriate press officer.
Published 13 June 2014