Press release
Overnight closures for A5103 wear and tear repairs
Drivers using the busy A5103 Princess Parkway and Princess Road in south Manchester are being advised that sections will be affected by overnight closures in September and November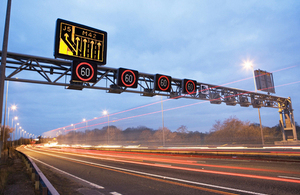 The Highways Agency is carrying out £40,000 of wear and tear repairs, including resurfacing, along northbound and southbound sections of the route between Barlow Moor Road at West Didsbury and Sale Road at Northenden.
Highways Agency project sponsor Jakub Malaj said:
The carriageway is worn here and these repairs will provide safer, smoother journeys for people heading into Manchester city centre and those heading out of the city onto the M60 and M56.
Both northbound and southbound sections will benefit from resurfacing with southbound work between Barlow Moor Road and the M60 and the northbound focusing on the section between Sale Road and the M60. Each carriageway will each be closed for up to three nights between 9pm and 5am each night – or 7am if the work is continuing into a Saturday or Sunday morning.
Work is always scheduled to avoid clashing with major events such as football and concerts around Manchester city centre.
Work on the southbound carriageway will start on Monday 22 September with the northbound work due to start on Monday 10 November.
Clearly-signed diversions will be in place.
Drivers needing to join the anti-clockwise M60 at junction 5 will need to join at junction 6 instead – via a diversion from Barlow Moor Road taking in Palatine Road, northbound Princess Parkway and the clockwise M60 from junction 5.
Northbound drivers heading into Manchester or onto the clockwise M60 will also need to take a diversion via Palatine Road and Barlow Moor Road with drivers heading for the motorway joining at junction 7 Stretford via Barlow Moor Road and Edge Lane in Chorlton and the southbound A56 in Stretford.
General enquiries
Members of the public should contact the Highways Agency Information Line on 0300 123 5000.
Media enquiries
Journalists should contact the Highways Agency press office on 0844 693 1448 and use the menu to speak to the most appropriate press officer.
Published 21 August 2014