Overnight carriageway closures at start of Thelwall Viaduct repairs
Drivers using the M6 through Cheshire are being reminded that major maintenance works at Thelwall Viaduct will begin at the end of this week with overnight carriageway closures to install traffic management.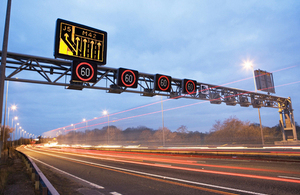 The Highways Agency is delivering a £2.5 million project to replace six bridge expansion joints in the two bridge decks in a nine week project.
The joints allow the bridge to move safely during changes in the weather and different traffic conditions.
To keep four lanes of the motorway running in each direction, a part-contraflow system is being installed at the end of this week.
Highways Agency project sponsor Louise Cannon said:
This is routine but essential maintenance and, while we are working hard to minimise disruption to drivers' journeys and keeping four lanes open in each direction, some congestion is inevitable.

Drivers can help themselves over the next few weeks by staying in touch with developments and thinking about planning their journeys – whether that means staggering their normal journey times or using an alternative motorway route.
The bridge joints along the southbound bridge will be replaced first and the traffic management will then be switched for work to take place on the northbound bridge.
The northbound carriageway of the motorway will close overnight between 10pm and 5am this Thursday (27 February) for part of the contraflow system to be installed. The southbound carriageway will then close on Friday night (28 February) between 10pm and 5am for the contraflow installation to be completed.
Further overnight carriageway closures will be taking place in the middle of the project when work switches to the northbound bridge and at the end for removal of the traffic management.
Provisional dates for the overnight carriageway closures for switching the traffic management have been set for Sunday 23 March (northbound carriageway closure) and Monday 24 March (southbound). Provisional dates for the overnight carriageway closures for total removal of the traffic management have been set for Tuesday 29 April (northbound) and Wednesday 30 April (southbound). The project is due to be completed by Friday 9 May.
Both the northbound and southbound carriageway closures on Thursday and Friday next week will be between Lymm and Croft interchanges, the M56 and M62 will have clearly signed diversions in place using alternative motorway and local routes.
From Saturday 1 March, drivers will find only three lanes open on the southbound bridge with one further southbound lane on the northbound bridge running against four northbound lanes. All the lanes will be narrowed and a 40mph speed limit will be in place backed by safety cameras.
A dedicated project page has been set up on the Highways Agency's website. It includes advice and tips for planning and managing journeys during the project.
Drivers can sign up for regular email and Twitter updates. Scheme and live traffic information is also available from the Highways Agency's Information Line at 0300 123 5000.
Electronic and hard signs will also be used to give information to motorway users.
General enquiries
Members of the public should contact the Highways Agency Information Line on 0300 123 5000
Media enquiries
Journalists should contact the Highways Agency press office on 0844 693 1448 and use the menu to speak to the most appropriate press officer
Published 24 February 2014