Press release
Over 7000 stopped for tea at M6 events
Thousands of drivers learned about motorway safety at a free event on Thursday 11 August.
This news article was withdrawn on
This document is no longer current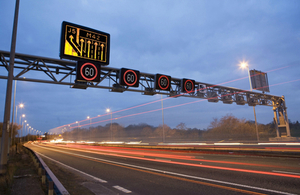 Highways England traffic officers and partners from local fire services, police forces, councils and TyreSafe encouraged drivers to Stop 4 T to check that their vehicles were safe to travel and to learn about the impacts of bad driving and poor vehicle maintenance.
The events featured Cheshire Police's Think! crashed car, a driver simulator and many other eye-catching features designed to make drivers think safety when driving. Partners involved in the event talked to visitors, checked tyres, gave advice and handed out 7000 leaflets on safety on the motorway.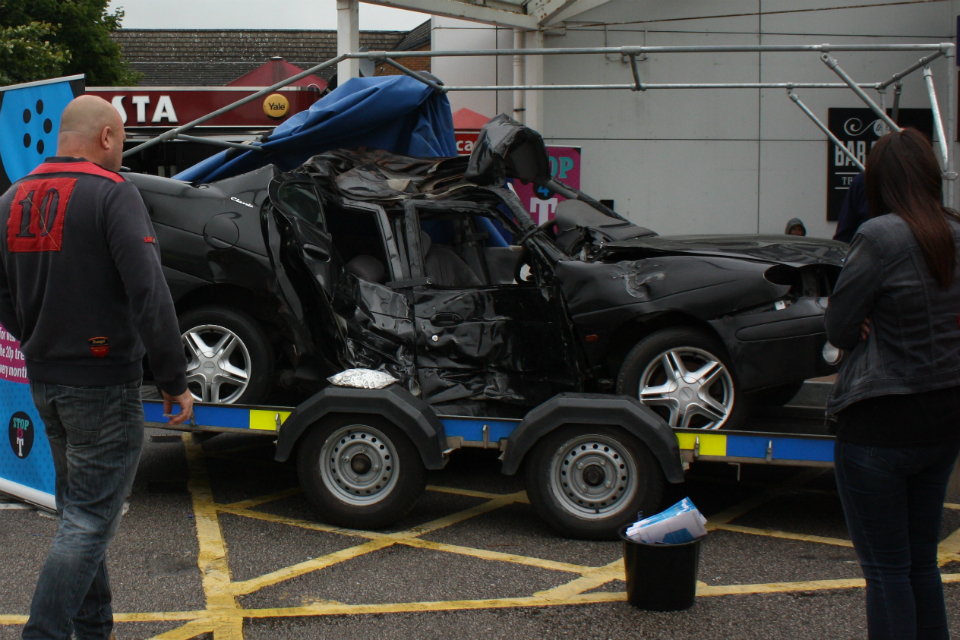 Highways England Road Safety Co-ordinator Lisa Scott said:
The aim of the safety day was to get drivers to think carefully about driving safely and maintaining their vehicles. Motorway driving is such an every day experience for most people, it's easy to forget how one wrong move can have terrible consequences.

We had a great turnout at all 17 service stations involved. A big thank you to all partners who took time out from their schedules to get involved.
Stop 4 T is part of a national summer campaign urging drivers to ensure they're totally prepared to drive on England's motorways.
With 46,000 breakdowns on England's motorways and major A roads last summer, drivers are also being reminded what to do if they break down, including if that is on a section of 'smart motorway' where there is no hard shoulder.
The thousands of incidents include trailers and caravans incorrectly fitted, tyre blow outs and people not having enough fuel to complete their journeys.
Highways England advised drivers of the resources on offer to help them arrive at their destinations safely, including advice about driving on smart motorways where signs and signals are used to help ease the flow of traffic to improve journeys. www.gov.uk/guidance/how-to-drive-on-a-smart-motorway
The Stop 4 T events on the M6 had 6 themes:
T is for Tyres
TyreSafe were on hand at the events to offer advice at almost every service area on the M6. Checking your treads and pressures could save your life. Poorly-maintained tyres affect steering, braking and handling, and are more prone to blowouts – putting yourself, your passengers and other lives at risk.
T is for Tiredness
Tiredness can kill. Never drive tired and take regular breaks.
T is for Towing
Make sure your vehicle is heavy enough to safely tow your trailer. There is a legal limit. Fit additional mirrors when you are towing any trailer that is wider than your vehicle. Ensure the tow bar is clean and free of grease, that the doors and windows are secure and the aerial is safe.
T is for Two Second Rule
The two-second rule is a simple but effective way of making sure you keep a safe distance from the vehicle in front. Double it in wet conditions.
T is for Top Up your tank
Don't leave it to chance. There's no excuse for running out of fuel on the motorway. But it's not just embarrassing. It could add hours to your journey and it's dangerous too – both for you and the person who has to come out and refuel your vehicle.
Highways England Traffic Officer Mike Clarke said:
If you're sitting in stationary traffic at roadworks, it's easy to assume that it's all down to the narrow lanes or the 50mph speed limit. In fact the delays are almost always caused by someone who has broken down in a live lane. Once we have a jam like this on our hands, the queues build at approximately a mile a minute. Please, please make sure you have fuel and a properly maintained vehicle before you join a motorway.
T is for Take Care around road works
Stick to the speed limit through road works. Cones and barriers are there for road workers' and road users' safety. Take care through roadworks.
The following service stations took part in the Stop 4 T event:
Corley north and southbound
Hilton Park Services north and southbound
Stafford Services northbound
Stafford Services southbound
Keele Services north and south
Sandbach Services north and south
Knutsford Services north and south
Lymm Services
Charnock Richard Services north and south
Lancaster (Forton) Services north south
General enquiries
Members of the public should contact the Highways England customer contact centre on 0300 123 5000.
Media enquiries
Journalists should contact the Highways England press office on 0844 693 1448 and use the menu to speak to the most appropriate press officer.
Published 15 August 2016