Over £60 million for synthetic biology
Synthetic biology, one of the most promising areas of modern science, is to receive boost of over £60 million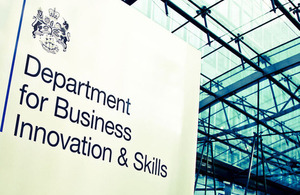 Synthetic biology, one of the most promising areas of modern science, is to receive boost of over £60 million to help the UK become a world leader, the Minister for Universities and Science will announce today.
In a speech at the BioBricks Foundation Sixth International Meeting on Synthetic Biology at Imperial College London, David Willetts will set out how government investment will help UK scientists investigate new techniques and commercialise research. This includes funding for cutting edge international research on synthetic yeast and support for university and business collaboration.
This will ensure the UK remains at the forefront of synthetic biology, identified at one of the government's 'eight great technologies' and highlighted in the Strategy for UK Life Sciences. The value of the synthetic biology market is expected to grow from an estimated £1.1 billion in 2011 to £7.2 billion by 2016.
Minister for Universities and Science David Willetts said:
Synthetic biology has huge potential. Indeed it has been said that it will heal us, feed us and fuel us. The UK can be world-leading in this emerging technology. That is why we are backing it with further investment today.
Today's package of support will bring together researchers and businesses to advance scientific knowledge and take it from lab to marketplace. It will drive growth and keep the UK ahead in the global race, supporting the life sciences industrial strategy.
In the speech the Minister will announce:
£1 million from the Biotechnology and Biological Sciences Research Council (BBSRC) and the Engineering and Physical Sciences Research Council (EPSRC) for UK scientists to join an international consortium attempting to build a synthetic version of the yeast genome by 2017
£10 million from BBSRC, EPSRC and the Technology Strategy Board (TSB) to establish a multi-partner Innovation and Knowledge Centre (IKC) in synthetic biology based at Imperial College London
£20 million to fund a new set of multidisciplinary research centres, supported by additional investment from BBSRC and EPSRC
£10 million for a synthetic biology seed fund managed by BBSRC for companies to commercialise research
£18 million from the research councils for DNA synthesis
£2 million to support training in synthetic biology.
In 2011 David Willetts chaired a roundtable discussion with academia and industry to consider the possible role for government in synthetic biology. The resulting working group chaired by Dr Lionel Clarke of Shell produced a roadmap setting out ambitions for developing synthetic biology in the UK.
Recommendations included setting up a leadership council, which David Willetts now co-chairs a jointly with Lionel Clarke, and that the research councils and TSB should establish a network of multidisciplinary centres.
Notes to editors
to create the most competitive tax system in the G20
to make the UK the best place in Europe to start, finance and grow a business
to encourage investment and exports as a route to a more balanced economy
to create a more educated workforce that is the most flexible in Europe.
Work is underway across government to achieve these ambitions, including progress on more than 250 measures as part of the Growth Review. Developing an Industrial Strategy gives new impetus to this work by providing businesses, investors and the public with more clarity about the long-term direction in which the government wants the economy to travel.
Published 11 July 2013