World news story
Over 400 visitors to the Residence on Chile's Heritage Day
On this day, the British Embassy in Santiago also launched activities to commemorate the 800th anniversary of the Magna Carta.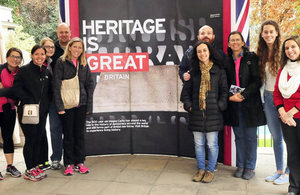 Over four hundred people visited the Residence of the British Ambassador in Santiago on Sunday 31 May, during the celebration of Chile's National Heritage Day.
The British Embassy has participated in Chile's National Heritage Day for several years, enabling hundreds of people to visit the Residence. Tourism students from IP Los Leones educational institution offered guided tours of the Residence's ground floor and the garden.
Built in 1938 in the traditional El Golf area, the Residence is one of the few original mansions left in the neighbourhood and is recognised as a building of historical value under municipal regulations. Its gardens were designed by landscaper Oscar Praeger.
The British Embassy bought the house in 1966 as home for the Head of Mission, making it the main venue for official activities organised at post.
On this Heritage Day, the diplomatic mission launched a month of activities to commemorate the 800th anniversary of the sealing of the Magna Carta on 15 June 1215. The public had access to essays on the subject by students from The Grange School. The Magna Carta has been considered the cornerstone of British democracy and some believe it has also influenced the foundations of Chilean law.
Further information
Visit the Magna Carta official website for more information about this celebration in the UK and abroad.
For more information about the events and activities of the British Embassy in Santiago, follow us on: