Press release
Over £330 million to give more than two and a half million patients better care and services
Over £330 million of extra funding will be spent on providing state of the art equipment and facilities to improve services for patients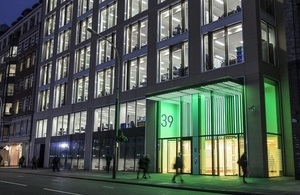 Extra funding to pay for state of the art equipment and buildings
Over £330 million of extra funding will be spent on providing state of the art equipment and facilities to improve services for patients, the Prime Minister announced today.
Hospitals around the country will get money for new operating theatres, A&E departments and other services as well as new CT scanners and ultrasound equipment.
• Over £72 million will be spent on urgent care facilities, including new operating theatres and a new A&E department.
• Patients will benefit from over £30 million for state of the art hospital facilities, including a new Paediatric Unit and a dedicated Women and Children's Unit.
• More than £20 million will be invested in world class equipment such as CT scanners and diagnostic equipment.
• Over £16 million will be invested in improving maternity services and equipment, including a new labour suite, increased maternity services and new ultrasound equipment.
• Over £6 million will be used to improve cancer care and screening, increasing women's access to breast screening equipment.
Prime Minister David Cameron said:
"This government is investing in the NHS to ensure the very best care is available - that's why I can announce over £330 million of new medical equipment, from CT scanners to cancer therapy and neo-natal care facilities. It will ensure millions of people see better buildings, better equipment, and brand new facilities and services as well as saving thousands of lives."
Health Secretary Andrew Lansley said:
"This is another great example of how this Government's drive to be more efficient is benefitting patients.  By reinvesting the money we have saved we are able to put over £330 million into projects that will help over two and a half million patients per year.
"Ensuring patients have access to the best quality equipment and services is essential in a modern NHS that strives to put patients first. This investment will mean that old facilities are re-vamped, there is more world class equipment in NHS hospitals and more patients get the scans and treatment that they need."
Tighter financial controls mean the government has made savings on planned IT systems delivery during this financial year. This has meant projects can be funded which will directly benefit patients.
The projects include:
• New urgent care centres in hospitals in East Lancashire and Hillingdon and an upgrade to the existing urgent care centre at St Helier Hospital. The North West London Hospitals NHS Trust will also develop a purpose-built A&E department to deliver world class emergency care. This will incorporate an urgent care centre next to operating theatres to promote integrated care. Facilities will include acute inpatient assessment, specialist inpatient care theatres and critical care. This will be of huge benefit to patients and will reduce travel time between departments to a minimum.
• Scarborough General Hospital will build a new dedicated paediatric facility, which will look after around 5,000 paediatric in-patients and 4,500 paediatric out-patients.
• New CT scanners will be bought for hospitals in Dorset, East Sussex and Newham which will provide doctors with high quality detailed images to inspect the inside of the patient without having to operate. In East Sussex, around 100 patients per week will now be able to be treated in-house.
• Birmingham Women's Hospital will be able to deliver an additional 650 babies every year in Birmingham and beyond. There will also be a purpose built recovery area and a new induction suite.
• Better breast screening equipment will mean more women can be screened for cancer. NHS East London and City will receive £1.1 million, which will mean an extra 10,000 women across Hackney and Newham will be invited for breast screening.
• Community hospitals in Bridgewater, Tewkesbury, Purley and Surbiton will be re-vamped which will benefit over 200,000 patients.
Some of the money will be used immediately, for example, for the purchase of medical equipment. Other projects, such as the redevelopment of hospitals, will have longer lead-in times and will start in the next financial year.
Notes to Editors
For further information, please contact the Department of Health press office on 020 7210 5221.
Details of the projects:
The total spend on capital projects is £336.5 million. For details of the projects and allocations please visit the Department of Health website.
Published 6 March 2012