World news story
Over £ 20 Million in UK support for humanitarian work in Sri Lanka
British High Commissioner issues statement to mark World Humanitarian Day.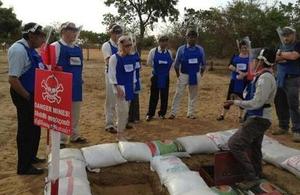 Monday, 19 August is World Humanitarian Day, the UN-designated day which recognises all humanitarian workers, and was established to mark the anniversary of the 2003 bombing of the United Nations headquarters in Baghdad, when 22 people lost their lives.
The UK has given over £20million (3.8 billion Rupees) since the start of 2011 to help Sri Lanka's post-war recovery.
British High Commissioner to Sri Lanka and the Maldives, H E John Rankin, commented on the tenth anniversary of this significant day: 'World Humanitarian Day reminds us anew that there is much work to be done around the world to help those who have lost everything in natural and manmade disasters and conflicts. More importantly, it highlights the selfless and inspiring efforts of those who dedicate their lives to helping others.
We all know that humanitarian work is required straight after a massive disaster. But it's also important to remember it's needed in the longer-term. In Sri Lanka, for example, there is a continued demand following the end of the war in 2009. The UK government supports this, including by funding The HALO Trust charity in its demining work here. This UK charity contributes to the wider efforts to help ensure safety, security and a return to normalcy for all citizens.
I myself have been to some of the minefields and seen why humanitarian work is still needed here. Today is an opportunity to thank the Sri Lankan demining workers – many of them, women – who spend their days doing work which will contribute to a brighter Sri Lankan future.'
Published 19 August 2013