Over 180 bids to improve or reinstate weekly rubbish collections
A groundswell of councils want to take up the Government's £250 million offer to support better, more frequent, more environmentally friendly…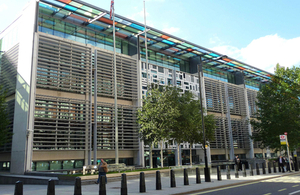 A groundswell of councils want to take up the Government's £250 million offer to support better, more frequent, more environmentally friendly bin collections for residents, Communities and Local Government Secretary Eric Pickles revealed today.
Over 180 potential bids have been sent in, surpassing expectations. Nearly two-thirds came from authorities that want to retain or reinstate weekly collections to offer more comprehensive collections of residual waste and recycling for their residents.
A number of bids are proposing to use the funding to invest in new infrastructure or technology to improve services or increase recycling. Others focus on better services like tackling 'bin blight' by reducing bin numbers or tailoring collections for specific neighbourhoods.
Ministers believe waste services have become too complex. In the past, councils had been actively encouraged to make cuts to services instead of improving value for money through better procurement, technology and incentives. In February 2012, the Government launched a new fund of up to £250 million Weekly Collection Support Scheme to help councils retain or reinstate weekly waste and recycling services.
The fund will also promote innovation, better procurement and joint working across local authorities supporting initiatives to increase recycling and deliver weekly collections. This will deliver benefits to the environment and taxpayers.
Government will now be working with councils to make sure quality outline bids are submitted by the May deadline. The scoring system will reward bids that support comprehensive weekly rubbish and recycling collections.
Mr Pickles said:
Rubbish collections are the most visible service that people get for their £120 a month council tax bill. The public are fed up of all the bin do's and bin don'ts - now our fund will mean councils can sort out their service and offer a high quality weekly collection or invest in ways to improve recycling through incentives and new technology.

I'm pleased to see so many councils come forward to stop the rot. This shows councils recognise more can be done to increase the sustainability, frequency and the quality of rubbish collections people get in return for their council tax.
Notes to editors
The Weekly Collection Support Scheme was launched on 3 February 2012. The fund encourages councils to focus on three things: better weekly collections, better contracts and better use of innovative ideas or technology that help residents to recycle more and do their bit for the environment. The prospectus Supporting Weekly Collections explains how councils should apply. Councils hoping to be eligible for a slice of the funding should submit their outline bid by 11 May 2012.

The Scheme follows on from the Government's announcement as part of the Waste Review in June last year to introduce a series of measures to make life easier for the householder. It has already scrapped plans to introduce new bin taxes with provisions through the Localism Act; reversed Audit Commission guidance and inspections which marked down councils who do not adopt fortnightly rubbish collections; and abolished Local Area Agreements imposed by Whitehall which created perverse incentives to downgrade waste collection services.

The fund will inject up to £250 million into projects that will help to improve local waste and recycling services, develop infrastructure, and reward recycling (for example, building on examples like Windsor and Maidenhead's Recyclebank scheme and Birmingham's Nectar points scheme).

The Government has committed to reducing waste and accelerating recycling rates by focusing on rewards incentives that encourage recycling. More details can be found here: www.communities.gov.uk/news/newsroom/1608336. A Government scheme to encourage councils and other organisations to test out innovative reward and recognition schemes is now in place: www.defra.gov.uk/environment/waste/consumer/reward-scheme/ (external link).

The Government has recently consulted on measures to stop councils imposing unfair 'bin fines' of up to £1,000 on households for breaches of confusing bin rules. The consultation, promised in the Waste Review, can be viewed here: www.defra.gov.uk/news/2012/01/16/bin-fines-consultation (external link). A Government response is expected shortly.

A recent Sauce-Icaro Attitudes to Waste Survey found that two-thirds (67 per cent) agreed with the statement the Government should mandate weekly collections. Weekly collections had higher satisfaction levels than fortnightly (83-74 per cent). Reports of problems with flies and smells for fortnightly collections was more than double that for weekly (14 per cent - 6 per cent).

The average Band D council tax bill in England is £1,444 a year (an average of £120 a month).
Twitter
Keep up to date with the Department by following us on Twitter (external link).
Media enquiries
Visit our newsroom contacts page for media enquiry contact details.
Published 2 April 2012