Over £18 million to go to manufacturing innovations
Projects include improving efficiency and sustainability in food packaging and revolutionising a labour-intensive process in high-value manufacturing.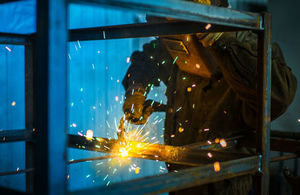 The strength of UK manufacturing and materials was highlighted today with an £18.4 million investment in businesses and organisations across the UK.
130 organisations representing 63 projects will get funding through Innovate UK's regular competition in this industry sector, which has just completed its third round.
Improving processes, creating efficiencies
These projects are primarily led by small and medium-sized enterprises. Examples of the projects funded include:
Opportunities for UK manufacturers
Speaking at The Manufacturer Live, Simon Edmonds, Director - Manufacturing and Materials, Innovate UK, said:
The quality and scope of these projects is outstanding. It highlights the appetite of UK manufacturing and materials companies across the country to innovate and grow.

This ongoing investment in R&D through our sector competitions, combined with the opportunities for UK manufacturers through the Industrial Strategy Challenge Fund, offers unparalleled levels of R&D support for businesses of all sizes.
Centre of excellence
Commenting on the projects, Science Minister, Jo Johnson, said:
These successful projects showcase how companies of all sizes can utilise the UK's research and innovation expertise to improve their operations and competitiveness, boosting the UK economy and our global standing as a centre of excellence.

The government is helping researchers and businesses to develop ground-breaking innovations through our £4.7 billion research and development uplift, and along with competitions such as these, is ensuring that our world-leading researchers continue to receive the necessary recognition and support within our Industrial Strategy.
Published 16 November 2017