Press release
Over £1 million of maintenance and safety works for A38 in Cornwall
Highways England is investing £1.025 million in a package of maintenance and safety works on the A38 between Liskeard and Saltash.
This news article was withdrawn on
This document is no longer current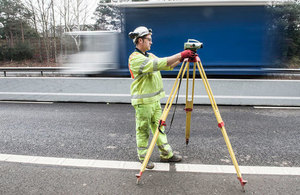 The overnight works, starting on Wednesday, 6 January, will include resurfacing, barrier repairs, kerb works and routine cleaning and maintenance checks in Saltash Tunnel.
Team leader Julian Strong said:
We always do as much as possible to minimise the impact of our works for drivers and that it why we are combining some works under the same road closures and carrying out works at night.

Once this package has been completed it will ensure these sections of the A38 remains safe and reliable for many years to come.
All works will take place between 8pm and 6am, although some traffic management may need to remain in place during the day for safety reasons. Clearly signed diversion routes will be in place during all closures.
Between Thursday, 7 January and Saturday, 9 January Saltash Tunnel will be closed overnight for maintenance which includes cleaning walls and signs, stud replacement, safety checks and drainage repairs. The normal diversion route will be in operation via the B3271.
We will take advantage of the tunnel closures to carry out kerbing and barrier works around Carkeel roundabout on Thursday, January 7 and Friday, January 8.
These works will require the overnight closure of the A38 westbound from Carkeel to Latchbrook on the 7 and 8 January, so a longer tunnel diversion route will be put in place for A38 traffic from Saltash to Latchbrook via B3271. Traffic crossing the A38 via Carkeel roundabout, using the A388, will be unaffected.
Between Wednesday, January 6 and Monday, January 14 we will be carrying out overnight resurfacing works on the eastbound carriageway of the A38 between Island Shop, Liskeard and Trerulefoot roundabout, near Tideford.
Traffic will be diverted along the A390 to Callington and then down the A388 to Carkeel to rejoin the A38. On the nights of 7 to 9 Jan traffic will join the diversion via the B3271 through Saltash.
Then between the nights of Tuesday, 15 January and Tuesday, 22 January we will be resurfacing the A38 westbound between Trerulefoot and Lean Quarry (near Liskeard).
Traffic will be diverted from Trerulefoot via the A374, A387 and B3252 to rejoin the A38 at Lean Quarry. There will also be resurfacing works on the eastbound carriageway between Catchfrench and Trerulefoot between Tuesday, 15 and Tuesday, 26 January, but through traffic will be maintained under a speed reduction control system using convoy working.
The work is weather dependant. Any changes to the programme will be publicised in advance.
General enquiries
Members of the public should contact the Highways England customer contact centre on 0300 123 5000.
Media enquiries
Journalists should contact the Highways England press office on 0844 693 1448 and use the menu to speak to the most appropriate press officer.
Published 24 December 2015