News story
Our plan for the next four years
The business plan, which replaces one published last November, reflects achievements to date and lays out plans for the future.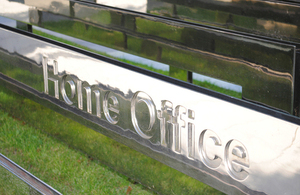 Find out more about our plan on this website.
It also sets out the department's key objectives, which are to:
empower the public to hold the police to account for their role in cutting crime
free up the police to fight crime more effectively and efficiently
create a more integrated criminal justice system
secure our borders and reduce immigration
protect people's freedoms and civil liberties
protect our citizens from terrorism
build a fairer and more equal society
Meanwhile, priorities for next year are set out, including:
New objectives
There are new objectives in the plan too. For police, there will be reduced national guidance, plans to ensure officers spend less time completing case files and the police appraisal process will also be simplified.
Meanwhile, changes are planned to strengthen the UK border.
'Smart zones' will speed up the processing of pre-checked low-risk passengers through border control points at certain ports and airports.
There will also be a new immigration and asylum biometric system.
Watch Home Office minister talking about achievements this year by pressing play on the video below.

Published 12 May 2011