Our expertise in nuclear safety reaches global audience
Our experts on nuclear criticality safety showed the depth of their knowledge when they represented the UK at an International Conference.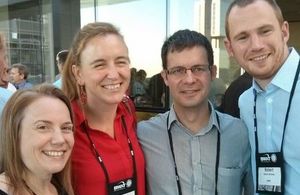 Our experts on nuclear criticality safety demonstrated the depth of their knowledge when they represented the UK geological disposal programme at the International Conference on Nuclear Criticality Safety hosted by the American Nuclear Society in North Carolina.
The conference held every four years discusses the issues surrounding nuclear criticality safety.
Our research manager Robert Winsley said:
The event brought together international specialists to discuss, analyse and study the latest developments in the area. It was a unique opportunity to exchange ideas, present national research for scrutiny and gain input and endorsement from industry experts, leaders, colleagues and peers.
Robert and his colleague Katie Chandler, together with our supply chain partners Robert Mason from Amec Foster Wheeler and Tim Hicks and Tamara Baldwin from Galson Sciences presented their recent work that will enable us to demonstrate post-closure criticality safety for our future UK geological disposal facility.
The event was attended by around 250 individuals from 17 different countries representing all of the major international nuclear programmes.
Robert Winsley explained that his presentation and paper summarised to the audience how we have applied our understanding on the likelihood and possible consequences of criticality to form robust safety arguments as to why post-closure criticality is not a significant concern. He said:
Our work was very well received and prompted some interesting discussions both during the formal questions session and also more informally during follow up conversations.
Attendance at the event shows that our research work on post-closure criticality safety is leading internationally.
Published 6 November 2015