Others must follow UK's lead at summit
Millions of lives across the world could be transformed by achieving the MDGs to tackle global poverty, International Development Secretary Andrew Mitchell said today in New York.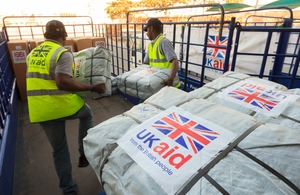 Speaking at the UN summit, he said now was the time for the world to redouble its efforts towards tackling poverty and the UK government would push for a meaningful outcome at the summit.
Andrew Mitchell said:
"Britain is leading the way in helping the world's poorest people, with a firm commitment to spending 0.7 per cent of GNI on aid from 2013. The UN Secretary General has praised Britain's 'visionary leadership' on this.
"Now is the time for other countries to step up and keep their promises too. We will push for that - and I will push for all aid to be more transparent and more accountable."
The International Development Secretary is pushing governments across the world to agree:
An internationally agreed action agenda that sets out the steps that need to be taken to meet the MDGs by 2015;
Collective international action to reduce the number of mothers and babies dying around the world and to fight to prevent the spread of diseases such as malaria;
A strong focus on transparency and accountability and the need to maximise the impact of aid, to help ensure that every pound of British taxpayers' money we spend demonstrates 100 pence of value;
Agreement to work together to address issues of conflict, fragility and violence which are hindering progress.
Huge strides have been made since the MDGs were agreed a decade ago with more children in primary schools, more communities benefiting from anti malaria bednet protection and a ten-fold increase in access to HIV treatments.
These successes demonstrate the MDGs are achievable with strong international support.
Andrew Mitchell will attend a number of high level events in New York this week as part of the MDG summit. He will attend meetings focusing on, amongst other issues, malaria, maternal health and education.
Published 20 September 2010