News story
Osprey training on Salisbury Plain
United States Air Force (USAF) pilots have been using advanced tiltrotor aircraft to carry out mission specific training on Salisbury Plain.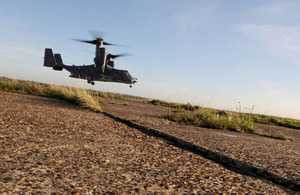 Pilots from the USAF 352nd Special Operations Group, based at RAF Mildenhall, have been conducting training flying CV-22 Osprey aircraft. They have been flying day and night over Salisbury Plain, 1 to 2 times a week, for the past month
The CV-22 Osprey combines the vertical take-off, hover and vertical landing qualities of a helicopter with the long-range, fuel efficiency and speed characteristics of a turboprop aircraft. Its mission is to transport and resupply military forces.
Colonel Michael McNerney, 352nd Special Operations Group deputy commander, said:
The CV-22 has a one-of-a-kind combination of speed, range and operational flexibility that allows it to perform missions normally requiring both fixed and rotor-wing aircraft.

While this is a new and exciting airframe, we are still operating under the same parameters as other aircraft and follow UK aircraft regulations and restrictions.
Lieutenant Colonel Christopher Goodyear, 7th Special Operations Squadron CV-22 operations officer, added:
Salisbury Plain provides great opportunities for CV-22 tactical profiles that we might encounter on missions in dedicated airspace and ranges. We are grateful to the UK, MOD, DIO and Natural England for the opportunity to conduct mission critical training at this location.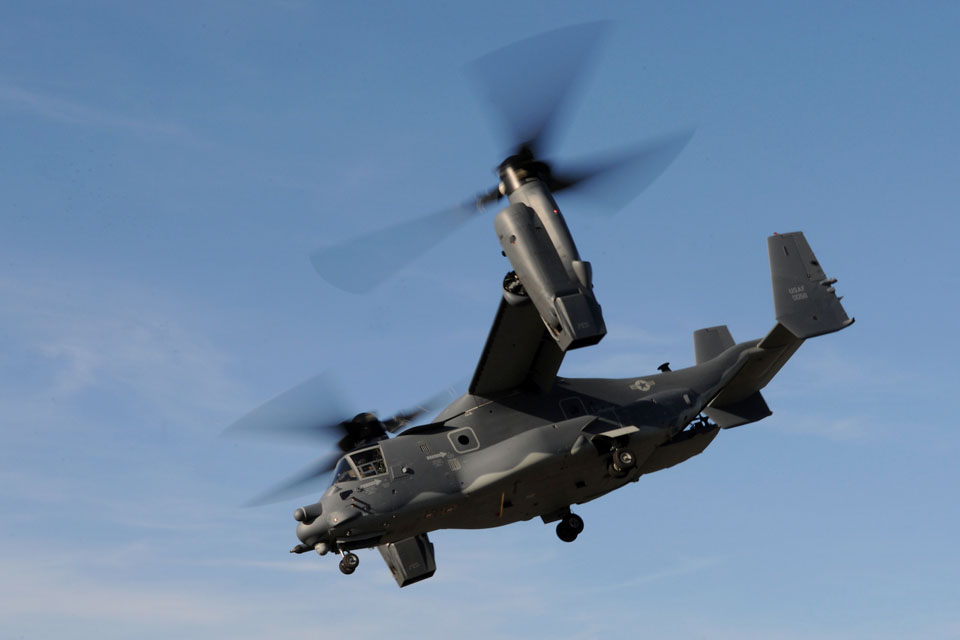 The highly-versatile CV-22 allows USAF Special Operations Command aircrews to execute long-range special operations missions. It takes off vertically and, once airborne, the nacelles (engine and prop-rotor group) on each wing can rotate into a forward position.
The aircraft is equipped with integrated threat countermeasures, terrain-following radar, a forward-looking infrared sensor and other advanced systems that allow it to operate at low altitude in adverse weather conditions and medium- to high-threat environments.
Salisbury Plain
Salisbury Plain Training Area is managed by the Defence Infrastructure Organisation (DIO). At over 38,000 hectares (94,000 acres), Salisbury Plain is the UK's largest training area and offers first-class and diverse training facilities to enable the British Army to meet its training requirements to prepare for operations worldwide.
Lieutenant Colonel Mark Hiskett, Principal Training Safety Officer, DIO Operations Training South West, said:
DIO's priority is to support our Armed Forces as they prepare for operations. We are proud to be able to offer a training area of the right type and size in the UK that enables our international allies to carry out their mission critical training efficiently and effectively.
Published 27 November 2013