World news story
Orion Energy and Pakistan Petroleum Limited (PPL) Joint Venture
UK based Orion Energy and Pakistan Petroleum Ltd. agree to work together to develop the offshore oil and gas potential of Pakistan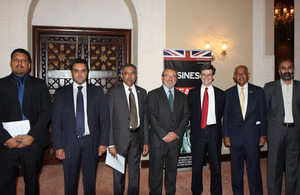 The UK Government welcomes the signing today of a Joint Study Agreement between Orion Energy Plc and Pakistan Petroleum Limited (PPL) which establishes a joint venture to develop the offshore oil and gas potential of Pakistan. The Joint Study will cover the entire Indus and Makran offshore areas.
The British High Commissioner to Pakistan, H.E. Mr Adam Thomson, along with Mr. Nadim Khan, Executive Director of the Pakistan Trade and Investment Forum, Mr. Asim Murtaza Khan, M.D. and CEO of Pakistani Petroleum Limited (PPL) and Mr. David M. Thomas, Director Orion Energy witnessed the signing ceremony at the Serena Hotel, Islamabad.
Orion Energy Plc and the Pakistan Petroleum Limited also signed a Memorandum of Understanding on the Kandhkot gas to electric project currently operated by Pakistan Petroleum Limited. Orion Energy plc will fast track a gas based power project with PPL as a joint venture partner.
H.E. Mr Adam Thomson, the British High Commissioner to Pakistan said:
This is a clear signal by UK companies of their wish to do business in Pakistan with Pakistani partners in the energy sector. The Government of Pakistan has flagged as the development of the energy sector as crucial to the economy and future prosperity of Pakistan and all its people. The UK Government looks forward to greater co-operation in the energy sector and increased trade and investment for mutual benefit. Today's signing is another step towards the UK and Pakistan's ambitious, joint trade and investment targets.
Contact: Jonathan Williams, Press Attaché, British High Commission, Islamabad; Tel. 0300 500 5306
Published 28 June 2013