News story
OpTek Systems: firm wins Queen's Award for its export success
Business supported by Innovate UK is leading the world in development and supply of precision laser micromachining technology.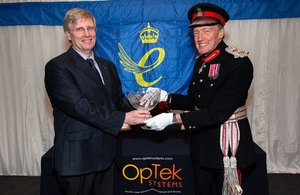 Global supplier of laser processing tools and laser machining services OpTek Systems has been awarded its second Queen's Award for Enterprise in International Trade.
The award was handed to the company by Lord Lieutenant of Oxfordshire Tim Stevenson at a ceremony at the company's Abingdon headquarters.
Optek Systems' dominance of the market for laser termination of optical fibres for telecom and data applications has boosted its export performance and helped to double the size of the business.
The company exports around 80% of its UK production and has established rapidly growing subsidiaries in North America and China.
Mike Osborne, founder and chief executive of OpTek Systems, said:
International trade is central to our business and this award recognises the investments we've made in developing our network and the hard work and dedication of all our staff and partners.
OpTek leads development of laser processing
OpTek Systems has a strong track record of developing new laser processes and moving them into production lines. Its processes are used in many areas including microelectronics, photovoltaics, telecoms, datacoms, sensing, biotechnology, medical device manufacture and precision engineering.
Over the last ten years, OpTek Systems has either led or been a partner in more than 10 projects supported by Innovate UK.
A recent project that was partly supported by Innovate UK has led to a £1 million-plus deal to commercialise a new compact version of OpTek's LaserCleave™ technology.
Myrddin Jones, Innovate UK's innovation lead electronics, sensors and photonics, said:
Congratulations to Optek Systems on its well-deserved award. We are delighted to have played our part in supporting a UK business that has grown to be a world leader in its field.
Published 6 December 2016