News story
Opportunity to meet the Foreign Secretary and live tweet an event
William Hague is marking his 200,000th follower on Twitter by inviting one of his followers into the Foreign Office in London to meet him & live tweet an event.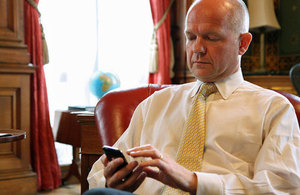 If you would like the opportunity to meet the Foreign Secretary and live tweet an event, you will need to answer the following question in a tweet or vine video including the hashtag #meetFS:
What do you think is the biggest contribution UK foreign policy can make to the world?
The competition will be open until 5:00pm GMT Friday 31 January.
The Foreign Secretary will review a shortlist of entries and select his favourite. He will then announce the winner via his Twitter account.
The winner will be invited to an event within the next two months, and be offered a tour of the historic Foreign Office building in Whitehall.
Tweets will be collated using #meetFS. The individual selected to attend the event may be subject to security checks. Please note that we are unable to meet any travel or subsistence costs.
Follow the Foreign Secretary on Twitter @WilliamJHague
Published 23 January 2014