News story
Opportunities for growth the priority for new Green Construction Board
The board, which is co-chaired by Business Minister Mark Prisk and Chief Executive of Lend Lease, EMEA Dan Labbad, will be focused on taking…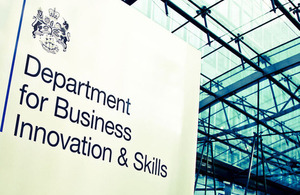 The board, which is co-chaired by Business Minister Mark Prisk and Chief Executive of Lend Lease, EMEA Dan Labbad, will be focused on taking a unified approach to the problems facing the industry and setting out an action plan to combat them. They will also work on persuading sceptics both inside and outside of the industry that a 'green' construction sector can lead to growth.
Business Minister Mark Prisk said:
"The potential for low carbon growth is enormous. There are approximately 25 million existing homes to be retrofitted by the end of 2050. This is a huge business opportunity that small construction firms should grasp.
"We want to seize these opportunities, which is why we have established the Green Construction Board so that Government and industry can work together and make the most of those opportunities.
"By working with the industry and setting out the problems facing them and putting plans in place to tackle them, we can identify the barriers to growth in this sector and overcome them."
Lend Lease Chief Executive Officer - EMEA, Dan Labbad said:
"This is a significant opportunity for industry to work in collaboration with Government to help facilitate green growth in our sector, provide a platform for leadership across the UK as well as deliver opportunities to export the talent of our industry overseas."
"The assembled board is an impressive group of senior representatives from across industry, our supply chain and from Government. I am looking forward to the opportunities ahead and working through the challenges in partnership with Government."
During the first meeting, the board set out its priorities and the areas that the board's working groups will focus on. It also set out its terms of reference and governance and was told about the background of the Low Carbon Construction Innovation and Growth Team report and the Government's response.
Notes to editors:
---
The board's full membership is as follows:

Mark Prisk, Minister of State for Business for Business and Enterprise (Co-chair)
Dan Labbad, CEO, Lend Lease (EMEA) (Co-chair)
Bill Bolsover, Aggregate Industries
Representative of Department for Communities and Local Government
Robert Care, ARUP
Mark Clare, Barratt PLC
Andrew Gould, Jones Lang LaSalle Ltd
Chris Hopkins, Ploughcroft
Bill Hughes, Legal and General
Representative of Cabinet Office - Efficiency and Reform Group
Representative of Department for the Environment, Food and Rural Affairs
Peter Maskell, Philips Electronics UK Ltd
John Moore, Balfour Beatty Engineering Services
Paul Morrell, HMG's Chief Construction Adviser
Chris Newsome, Anglian Water
Mark Oliver, H&H UK Ltd
Sunand Prasad, Penoyre and Prasad
Mike Putnam, Skanska
Representative of HMT - Infrastructure UK
Lynne Sullivan, Sustainable by Design
James Wates, Wates
Representative of Department of Energy and Climate Change

Terms of Reference for the Board are available at www.bis.gov.uk
BIS's online newsroom contains the latest press notices, speeches, as well as video and images for download. It also features an up to date list of BIS press office contacts. See http://www.bis.gov.uk/newsroom for more information.
Notes to Editors
Contact Information
Name BIS Press Office Job Title
Division COI Phone
Fax
Mobile
Email NDS.BIS@coi.gsi.gov.uk
Name Nick Evans Job Title
Division Department for Business, Innovation and Skills Phone 020 7215 3496 Fax
Mobile
Published 24 October 2011