World news story
Opportunities for growth: retail market in Peru
As the country with the fastest growing retail sector in Latin America, Peru presents a range of current and future opportunities in the retail sector for British brands.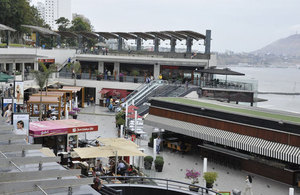 According to Latin Focus Consensus Forecast, by the end of 2013 the average growth of the retail sector in Latin America will be 2.6%, while in Peru it will reach 5.9%, making it the country with the fastest growing retail sector in Latin America. This trend is expected to continue at an estimated average of 6% over the next five years.
For information about business opportunities for UK companies in the retail market in Peru, please contact UK Trade & Investment team in the British Embassy in Lima.
(+51) (1) 617-3000 UKTI.Lima@fco.gov.uk
The emergence of a growing, affluent middle class with increasing disposable incomes to match their aspirations is also driving the growth of Peru's retail market. This emerging middle class coupled with the long-established middle class, make up 57% of the Peruvian population.
The most attractive sectors for retail are clothing, accessories, food & drink and home & kitchen appliances. Peruvian consumers have a good perception of UK companies as providers of quality goods and are likely to be interested in incoming British brands.
The proposals for the development of a further 12 new malls throughout the country by the end of 2014 is a good indicator that the sector is blooming and not saturated like other regional markets.
There are already a number of UK brands present in Peru such as Mothercare, Warehouse, Clarks, Oasis, Burberry (watches and fragrances), MINI and Aston Martin. Another set of brands that has already announced their entry into the market includes Kenwood, Trespass, Jaguar, Caterham and Berghaus.
One clear example of the development of the retail sector in Peru is the arrival of world-class international brands like Zara. In January of 2012, the Spanish clothing retailer launched its first store in Lima. The store sold approximately £600,000 in its first week. In 2013, the retailer also launched 'Zara Home'.
Published 5 February 2014