Opportunities for businesses in MOD construction supply chain
Defence Infrastructure Organisation (DIO) is aiming to give a boost to businesses of all sizes by encouraging them to get involved in supply chains for future build, repair and maintenance contracts for the UK's Defence estate.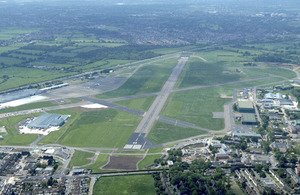 DIO is currently seeking expressions of interest (EOI) for three contracts covering all of England and Wales to provide repair and maintenance of airfields, army bases and naval sites (excluding main dockyards) and new building works up to a value of £3.93 million.
Its Next Generation Estate Contracts (NGEC) team is procuring contracts for the South West, South East and Central areas. DIO is calling on businesses of all sizes, who feel they can make a contribution to the supply chain for these works, to get involved.
Small and medium-sized companies providing services such as building work, grounds maintenance, mechanical and electrical and civil engineering, catering and cleaning can join the process, as well as larger companies that may wish to bid as Prime Contractors.
Specialist companies providing energy management services, electric vehicles, recycling and environmental services will also have a role to play.
Steve Rice, the NGEC programme director, said:
Supporting our Armed Forces as they prepare for operations is DIO's priority. The stewardship of first-class facilities is central to fulfilling that aim. These contracts cover a vast geographical area, including key bases vital to the delivery of military capability.
The challenge for industry will require excellent supply chain companies, supported by an excellent prime contractor. We are determined to put in place the best possible prime contractors, supported by strong, healthy supply chains and subcontractors.
He added that one advantage for small and medium-sized companies of doing business with the MOD was that strict rules apply to the timely and complete payment of the supply chain contractors as well as the provision of stable workloads.
The NGEC team is preparing for engagement with industry, focused on these regions during April 2012. It is hoped these opportunities will continue to draw the best providers with the most innovative solutions - small, medium or large.
To attend the industry day for one or more of these contracts, a company must read the advertisement in the Official Journal of the European Union (OJEU), and register an EOI before 29 March 2012. The industry day will be on 18 April 2012, in Wiltshire.
This will be a full day explaining the contracts available, the procurement process and giving potential supply chain members the opportunity to meet the companies who may be bidding as prime contractors.
Tenders will be invited in the autumn of 2012, and the contracts will begin in the second half of 2014. Not being at the industry day will not exclude companies from bidding for work as part of the supply chain, but it does put companies at the top of the list for a Prime Contractors consideration when choosing supply chain partners.
Published 23 March 2012