World news story
Opportunities for Argentine scientists
The Newton Fund is offering opportunities for regional workshops and travel grants. Biodiversity and climate change are some priority areas.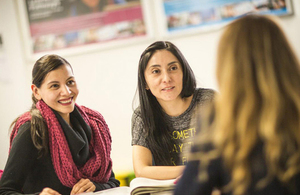 The Newton Fund, a UK Government initiative, has announced the opening of applications for scientific researchers of six Latin American countries (among them, Argentina) to take part in regional workshops on biodiversity or travel grants to the United Kingdom.
These grants are funded under the UK Department of Business, Energy and Industrial Strategy (BEIS), together with partner funders from Mexico, Colombia, Brazil, Chile, Peru and Argentina. The Newton Fund aims to promote the economic development and welfare of either the partner countries or, through working with the partner country, to address the problems of low-income and vulnerable populations.
Regional Workshops
Newton Fund Researcher Links regional workshops bring together early-career researchers from the UK and other regional partner countries, to allow them to make international connections that can improve the quality of their research. Joint applications are made by senior researchers from the partner countries who lead the workshop. Once funded, grants are available for early-career researchers in the UK and the partner countries to attend and participate.
Travel Grants
Researcher Links Travel Grants provide financial support for early and established career researchers to undertake an international research placement to strengthen links for future collaboration, build research capacity in developing economies, and enhance the researcher's career opportunities. Researchers that reside in the UK can apply for funding to visit a university or research institution in one of the partner countries, and those residing in one of the partner countries can apply for funding to come to the UK. 
Priority areas defined by Newton Fund:
Understanding habitats and species
Biodiversity for sustainable livelihoods and bio-economy
Global Climate Change, Biodiversity and ecosystems
Maintaining and restoring natural capital
The application deadline for both regional workshops and travel grants is 20 October.
Eligibility criteria and application forms for workshops can be found here.
Eligibility criteria and application forms for travel grants can be found here.
British Embassy Buenos Aires
Dr Luis Agote 2412 (1425)
Buenos Aires
Argentina
Open to the public: Monday to Friday 9am to 1pm. Office hours: Monday to Thursday: 8:45am to 5:30pm; Friday: 8:45am to 2:00pm. See Access and opening times to make an appointment for notarial services.

For enquiries that are not about consular issues, email askinformation.baires@fco.gov.uk
Published 24 August 2017
Last updated 6 October 2017
+ show all updates
Extension of deadline
Added translation