Open House London weekend
The Foreign and Commonwealth Office will be throwing open its doors as part of the Open House London architectural festival on Saturday 17 and Sunday 18 September.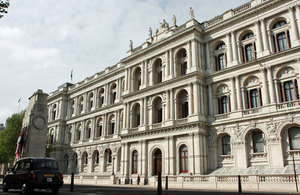 Every year, the FCO on King Charles Street, London, welcomes thousands of visitors during the Open House Weekend to hear about the formation of the office, the historic Fine rooms, the impressive architecture and the symbolic importance of this building in Britain's past.
Visitors will also have a chance to meet FCO staff and to hear about life in the FCO today.
Visitors are welcome to come to the FCO between 10.00 and 17.00 (last entry 16.30) on Saturday 17 and Sunday 18 September. Download our audio tour before you come to hear details of the architecture and history as you walk through the magnificent FCO.
You can also send us your photos from the weekend by joining our flickr group.
Open House London, an Open-city initiative, celebrates all that is best about the capital's buildings, places and neighbourhoods. Every September, it gives a unique opportunity to get out and under the skin of London's amazing architecture, with over 700 buildings of all kinds opening their doors to everyone - all for free.
Published 16 September 2011