The Foreign and Commonwealth Office takes part in Open House London every September - throwing open its doors and inviting the public to view the 142 year old building.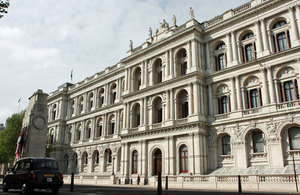 Every year the FCO welcomes thousands of people during Open House Weekend to hear about the formation of the Office, the historic Fine Rooms, the impressive architecture and the symbolic importance of this building in Britain's past.
Open House London, an initiative by Open-City, is the capital's largest architectural festival and runs from Saturday 18 September to Sunday 19 September, from 10.00 - 17.00 (last entry 16.30).
There is a new reason to come and see the headquarters of the FCO this year - we responded to requests from the public and have produced an audio tour which will bring the building to life and allow visitors an alternative means of learning the history and architecture of the building.
Guests are able to download the audio tour from the FCO website and can then play it while they walk around the building. This has been developed in-house by the digital team at the FCO and is free.
The audio tour will also be available to download as a podcast from iTunes soon.
Published 20 August 2010