Press release
Online toolkit to help start-ups hiring staff
Employment Relations Minister Jo Swinson launches online toolkit that provides employers with help when taking on their first employee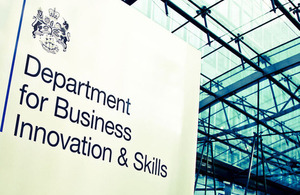 An online toolkit that provides employers with help when taking on their first employee was launched by Employment Relations Minister Jo Swinson today.
An update from the version that was launched a year ago, the "Employing staff for the first time" toolkit helps potential employers through the process of hiring their first member of staff and sets out the relevant legal requirements. This includes information on setting pay, getting the right insurance, understanding tax requirements and checking a new employee's right to work in the UK.
Employment Relations Minister Jo Swinson said:
We know that around 300,000 businesses look to take on staff each year. For some businesses there is a perception that hiring for the first time is a daunting process. This is especially the case if you are the owner of a small business and do not have your own HR staff.
Our toolkit is a valuable one-stop-shop that provides businesses with free access to everything they need to know about taking someone on. Making sure businesses feel confident about growing will help to build a stronger economy and create more jobs.
On its initial introduction in April 2012 the tool was getting around 4,000 hits a month. Since the site was transferred to the GOV.UK site, traffic has trebled to around 12,000 visits a month and at this rate will hit 144,000 visits by the end of the year.
Lindsay Melvin MCIPPdip, Chief Executive at the Chartered Institute of Payroll Professionals (CIPP), said:
The 'Employing staff for the first time' toolkit on the GOV.UK website is a very informative resource for organisations that are unfamiliar with the processes around hiring new employees. The CIPP is delighted at the success of the tool a year on from its launch.
We encourage employers to be fully aware of their payroll obligations when starting a business and think that this checklist from BIS provides a solid foundation to understanding the essentials.
Rekha Mehr, Founders and Entrepreneur in Residence for BIS said:
I have certainly fallen victim to the fear of hiring an employee, even in the knowledge that they would be the key to me growing my business. Part of the problem is having a clear list of my obligations as a potential employer before even thinking about the recruitment process.
It's great to see this clear and concise guide addressing the facts and providing links for further reading to save time-precious business owners from trawling the mass of information on the internet.
Institute of Recruiters (IOR) Director General, Azmat Mohammed said:
Taking on an employee for the first time can be a challenging prospect for a small business. This is why it is important that they have access to support to help guide them through the process.
This excellent free online toolkit will provide free access to key information a business needs to consider when taking someone on. It will make their life easier and allow them to focus on growing their business.
In addition, The Advisory, Conciliation and Arbitration Service (Acas) will today launch six new guides to help small firms make sure they comply with the law when hiring, managing people and dealing with complaints at work.
The free guides include a legal checklist, useful tools and templates that can be downloaded from the Acas website at www.acas.org.uk/stepbystep
Notes to editors:
1.The "Taking on a employee" toolkit can be found at https://www.gov.uk/employing-staff
2.The first phase of the toolkit "Taking on an Employee" was launched on the Business Link website in April 2012 and brought together the main tasks an employer must do when they take on their first member of staff. It was designed from the perspective of the user in bringing together information from different government departments.
3.The toolkit responds to findings of the Red Tape Challenge spotlight on employment law in October 2011 that many businesses found taking on their first member of staff a daunting prospect because they didn't know what rules and regulations they were expected to comply with.
4.The Employment Law Review is a Parliament long review looking at all aspects of employment law and is part of the government's plans to deliver growth by breaking down barriers, boosting opportunities and creating the right conditions for businesses to start up and thrive. More information can be found here https://www.gov.uk/government/policies/making-the-labour-market-more-flexible-efficient-and-fair
5.The government's economic policy objective is to achieve 'strong, sustainable and balanced growth that is more evenly shared across the country and between industries'. It set four ambitions in the 'Plan for Growth' (PDF 1.7MB), published at Budget 2011:
to create the most competitive tax system in the G20
to make the UK the best place in Europe to start, finance and grow a business
to encourage investment and exports as a route to a more balanced economy
to create a more educated workforce that is the most flexible in Europe.
Work is underway across government to achieve these ambitions, including progress on more than 250 measures as part of the Growth Review. Developing an Industrial Strategy gives new impetus to this work by providing businesses, investors and the public with more clarity about the long-term direction in which the government wants the economy to travel.
Published 15 April 2013