World news story
Online appointment for consular services
Important notice from the Consular Section of the British Consulate in Jerusalem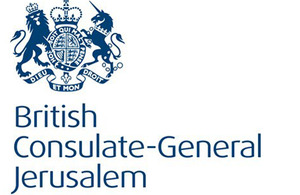 The Consular Section of the British Consulate in Jerusalem will be starting an online appointment booking system for our consular customers from Monday, 20th May 2013.
This will mean that we will no longer accept walk-in customers for legalisation and notarial and documentary services. The new system will allow us to better dedicate the appropriate time and expertise to your respective enquiry.
All the information including on how to make an appointment is accessible via this link.
When you go to our website, and click on the Consular Appointment System' option under Quick links on the right hand side of the homepage, this will take you to the 'Consular online booking appointment system' main page. From there you can select the service you require and make a booking. If you have problems accessing the system or need to make an appointment for other consular issues or have a consular emergency, please call 02 5414135 or email us on Britain.jerusalem@fco.gov.uk
If you require consular assistance out of office hours (working hours: 07.30- 15.30hrs), please contact the Consulate on 02 5414100.
Consular Section
British Consulate General in Jerusalem
Published 10 May 2013