Press release
One year anniversary of Boris Nemtsov's murder in Moscow
Minister for Europe, David Lidington, pays tribute to Boris Nemtsov on the one year anniversary of his murder.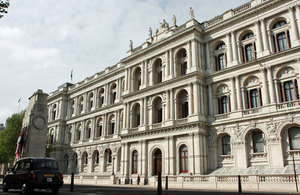 "Today marks one year since the horrific murder of Boris Nemtsov in Moscow. He was a former Deputy Prime Minister, a leader of Russia's political opposition and a tireless campaigner for the rights of all Russian people. As the Prime Minister commented at the time of Mr Nemtsov's death, he was a man greatly admired in the UK for his courageous work to promote democracy and tackle corruption.
"Russia - and indeed the world - lost an important champion for human rights on that tragic night one year ago. But his legacy, and the fundamental values that he fought for, live on.
"I urge the Russian government to ensure that those responsible for this appalling crime are brought to justice. Like many in Russia and the international community, the UK government will be following developments closely".
Further information
Published 27 February 2016