Press release
One week to go to bid for £3 million coastal fund
There is one week left to bid for a £3 million coastal fund to kick-start seaside regeneration.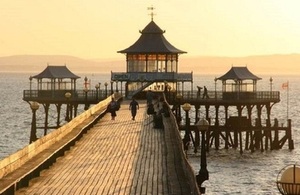 As the summer season comes to an end, seaside communities are being given the opportunity to bid for funding to smarten up and revive cherished piers, striking icons and atmospheric arcades.
Coastal Communities Minister Mark Francois today (7 September 2015) urged communities to bid for a £3 million Coastal Revival Fund to help communities kick-start long awaited restoration work and bring back into use hard-to-tackle buildings, landscapes, facilities and amusements.
The revived sites will attract visitors, boost the economy and be proud landmarks for future generations to enjoy.
The fund will also act as a catalyst to drive additional financing from the private and charitable sectors.
The National Piers Society has said that Weston Birnbeck Pier, Bognor Pier, Herne Bay Pier, and Swanage Pier are some of the historic structures that could benefit.
The government is determined to unlock the economic potential of seaside towns. The successful Coastal Communities Fund has already invested some £120 million in over 220 projects across the UK to help seaside towns diversify their economy to be year-round success stories.
Coastal Communities Minister Mark Francois said:
From historic piers, seafronts to lidos our coastal towns are awash with striking icons which we want to celebrate but may have fallen into neglect and disuse over time.

I urge communities to bid for this £3 million Coastal Revival funding ahead of the deadline so they can kick-start restoration work and drive further investments so these icons can be restored to their full potential.

This government is committed to reviving our seaside towns and our multimillion pound Coastal Communities Fund is having a big impact on seaside economies. At least £90 million more will be spent in the coming years.
The Budget announced the Coastal Communities Fund will continue for another 5 years with a pot of £90 million. This will give communities another chance to take forward their vision for improving their seaside town.
Statistics from VisitEngland show a rise in the numbers of holiday trips being taken in the UK for the first quarter of the year – the highest number in almost a decade. Visits were up 18% on 2014 in England.
Earlier this summer, a study by Barclays Business poll of 2,000 adults found that more than three-quarters of people are planning or had already been on a holiday within the UK this year. It found that in 2014 turnover for businesses in the accommodation and food sector rose 11% from the previous year, which is the largest annual increase since 2006.
Further information
Applications for the Coastal Revival Fund close on 14 September 2015 and are open to England only.
The Coastal Communities Fund gives residents, councils and local businesses the chance to bid for funding to take forward their vision for improving their seaside town. Details of future bidding for the Coastal Communities Fund will be announced later this year.
The Coastal Communities Fund is financed by the government through the funding equivalent of 50% of the revenues earned from the Crown Estate's marine activities in England and the devolved administrations.
The government also recently announced the creation of 116 coastal community teams which encourages local businesses, local leaders and volunteers to create a long-term strategy for their area.
Office address and general enquiries
2 Marsham Street
London
SW1P 4DF
Contact form https://forms.communit...
General enquiries: please use this number if you are a member of the public 030 3444 0000
Published 7 September 2015