News story
One North East Development Agency Non-Executive Directors continue to serve on the Board
Graham Thrower, Prof Chris Higgins, Gill Hale, Ian Dormer, Alison Thain OBE, Ian Brown and Bob Symonds will serve from 14 December 2010 until…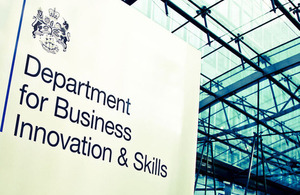 Graham Thrower, Prof Chris Higgins, Gill Hale, Ian Dormer, Alison Thain OBE, Ian Brown and Bob Symonds will serve from 14 December 2010 until the RDA closes.
The Minister commented:
---
"As we move toward a new framework for our regional economies, it is important that the development agencies are equipped with the leadership to ensure the transition period is a smooth one.
"The skills and experience of these board members will be a valuable asset during this time and I hope they will continue to work with us to ensure an efficient evolutionary process."
---
Margaret Fay ONE North East Chairman said:
"These Board members have all brought a wealth of experience, energy and focus to the board of One North East and I am delighted that they have agreed to continue to work alongside the new Chairman Paul Callaghan during this critical time for the region.
"The Board has been a major force behind the Agency's progress driving the economic development of the region and the experience of the retained members will be invaluable in the challenging times ahead for One North East."
Notes to Editors
Regional Development Agency non-executive Board member posts
attract a remuneration of £8,666 per year for a minimum time commitment of two days per month.
The continued terms are up until the RDA closes. Final closure of RDAs is likely to be completed by 31 March 2012 following legislation.

RDAs are business led organisations, promoting and co-ordinating
economic growth and development, enterprise and regeneration.
The Coalition Government has made the decision to support the
creation of local enterprise partnerships to replace RDAs. On that basis the decision was made not to continue with further Board member recruitment. The continued terms are necessary to ensure that the RDA Chairs are able to effectively manage their Board membership up until closure, and that membership does not fall below the minimum requirement of eight, as stated in the Regional Development Agencies Act 1998.
The original appointments were made following open competition in accordance with the requirement set down in the Commissioner for Public Appointments Code of Practice. All appointments are made on merit and political activity plays no part in the selection process. However, in accordance with the original Nolan recommendations, there is a requirement for appointees' political activity (if any declared) to be made public.

Graham Thrower, Prof Chris Higgins, Ian Dormer, Alison Thain, Ian Brown have not declared any political activity undertaken during the past five years. Gill Hale is an active member of the Labour Party, Bob Symonds is an active member of the Labour Party and was a Local Councillor until May 2010.

Prof Chris Higgins is the Chair of SEAC which attracts a remuneration of c.£600 for a time commitment of 10 days a year. Ian Brown is on the Environment Agency Regional Environment Protection Advisory Committee - Northeast/Yorks' Humber which attracts a remuneration of £17,641 a year for a time commitment of 5 days a month. Graham Thrower, Gill Hale, Ian Dormer, Alison Thain, Bob Symonds do not hold any further ministerial public appointments.
Biographies:
Ian Dormer
---
Ian is MD of Rosh Engineering Ltd in Birtley, a specialist contractor to the electrical supply industry repairing and refurbishing high voltage electrical plant equipment. Since the early 1990s Ian has been active at national level with the Institute of Directors, and was Vice Chairman from 2004 until April 2010. He chairs Enterprise Development North East Ltd as well as sitting on the Board of the City Development Company for NewcastleGateshead. He chairs the North East Business Support Simplification Transition Management Board and has just been appointed Chairman of the Agency's Audit Committee. Ian has been a Director of Northern Business Forum and Chairman of Business Link Tyne & Wear. He is an advocate of a positive health and safety culture, chairing an IoD-HSE oversight group on this issue.
Professor Christopher Higgins
Durham University's Vice-Chancellor, Chris Higgins joined the One North East Board in 2007. He has served as a director for the Medical Research Council and his research led to the UK's first clinical trials for cystic fibrosis gene therapy. He also served on the Councils of BBSRC and The Academy of Medical Sciences and the Executive Board of the Association of Medical Charities. Chris is currently a member of the Human Genetics Commission and chairs the Spongiform Encephalopathy Advisory Committee, which advises the Government on BSE and vCJD.
---
Gill Hale
Gill Hale is Regional Secretary for the public service trade union UNISON, and the Chair of the Northern Regional TUC - the first woman elected to that office. She joined the One North East Board in 2007. Prior to moving to the North East, Gill worked for COHSE in Sheffield and before that was employed in the health service.
---
Graham Thrower
Graham Thrower had an extensive career in international Corporate Finance raising equity, bond and bank finance for global media and technology companies, latterly as Managing Director of Citigroup. Since 2004 Graham has been based in north east England where he has built a record label and music business, and founded a number of digital and creative enterprises. He has been widely involved in economic development, access to finance and the development of the region's commercial creative sector. In addition to the Board of One North East, Graham sits on the boards of North East Access to Finance and Newcastle Science City, and chairs the national music development agency Generator. He is a Fellow of the Royal Geographical Society.
---
---
Alison Thain OBE
In April 2008 Alison became Group Chief Executive of social housing manager and developer Fabrick Housing Group, a strategic partnership of Tees Valley Housing (where Alison was previously Chief Executive) and Erimus Housing. With a turnover approaching £60m, over 700 staff and capital spending of £100m pa, Fabrick is one of the top companies in the Tees Valley. Alison is also a Governor of Teesside University and one of the private sector partners of Tees Valley Unlimited Leadership Board where she has the housing brief. She was made OBE in 2004. She chairs the Regeneration Committee and is the Agency's Design Champion.
Bob Symonds
Bob has been a powerful advocate for the City of Sunderland for more than 15 years, both as a Cabinet Member and Council Leader, during a time of dramatic economic and cultural regeneration. Bob has represented the council nationally on a number of influential political organisations, such as the Association of North East Councils and the Local Government Association, and held portfolios on the Modernisation of Local Government, External Affairs, Regional Matters and Community Safety.
Ian Brown
Northumberland businessman Ian Brown joined the Board of One North East in 2005 and has a specific role as 'rural champion'. Ian has many business interests in the region. He is a consultant on sustainability issues, was the founding chairman of a gourmet food business and is director of six other companies. He has also successfully developed, and continues to manage, a rural business park near Alnwick, Northumberland. He was Chairman of the North East Rural Affairs Forum for three years, and leads the Environment Agency's Regional Environmental Protection Advisory Committee for the North East and Yorkshire, and is an Honorary Alderman of the County of Northumberland. He has recently joined the regional advisory committee for the Forestry Commission.
Notes to Editors
Contact Information
Name BIS Press Office Job Title
Division COI Phone
Fax
Mobile
Email NDS.BIS@coi.gsi.gov.uk
Published 26 July 2010