One hundred objects to symbolise First World War in the air
With the centenary of the First World War just 18 months away, the RAF Museum is asking members of the public what objects from its archives they would like to see on display to explain the role of aviation in this momentous event.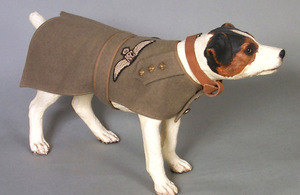 The most popular items voted for by the public will be selected for a new permanent exhibition highlighting the personal experiences of the young men and women of the newly-formed Royal Air Force (and its parent organisations the Royal Flying Corps and the Royal Naval Air Service) and their contribution to the Allied victory.
Curators from the RAF Museum have selected 100 artefacts from its rich and diverse First World War collection, with each object specifically selected to tell a story about the experiences of those men and women, at home and overseas, who lived, fought, worked and died during this cataclysmic period.
The collection includes objects ranging from Baron Manfred von Richthofen's lucky charm (a blue glass dog) to Lieutenant Frank McNamara's Victoria Cross, awarded to the Australian pilot for rescuing a fallen comrade despite being gravely wounded himself.
Members of the public are invited to vote for, debate and explain which objects should be given greatest prominence in the museum's new First World War exhibition (opening to the public in Spring 2014) by logging onto the museum's Flickr and Pinterest channels.
These views will not only determine the content of the exhibition but also enable us to engage with a much wider audience - many of whom we hope will be able to provide their own stories through the letters, photographs and artefacts left by relatives who served in the Royal Air Force, or supported its efforts, during the First World War.
See Related Links to view the museum's Flickr and Pinterest streams or for more information go to the RAF Museum's website.
The museum would also welcome general input from the public, as part of a consultation process for the redevelopment of the museum's London site, about the types of future displays visitors would like to see. See Related Links to access the consultation document.
Published 15 November 2012